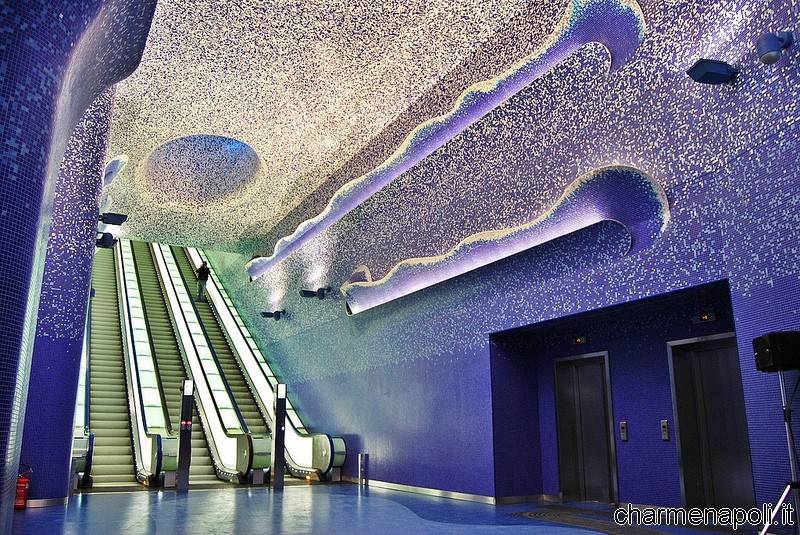 With over 150 years of history, the "tube" in London can certainly boast the title of oldest underground railway in the world. But the prize for the most beautiful subway station in Europe if the pick station of Toledo in Naples! He says a recent ranking by CNN, the most important U.S. all-news television station, which sees the second step of the podium station Westfriedhof, in Monaco, and the third that of Komsomolskaya, in Moscow.
In the travel section of its online site, the network for "Stars and Stripes" explains that over the decades, including Paris, Berlin, Madrid and Milan have made ​​their underground rail lines, providing them with electric trains and often surpassing the stations of the famous "London subway" in terms of aesthetic quality, thus demonstrating that there are many factors to consider to make a subway station most modern and charming. However, in this sense, the stop Toledo (inaugurated in 2012) ahead of the competition thanks to the "light panels" made ​​by Robert Wilson and works of art by William Kendridge, Robert Wilson and Achilles Cevoli. And this "magnificent station" has, however, rivals all respect. Which makes the recognition of "Made in USA" even more significant.
[charme-gallery]
In fourth place, in fact, stands the station Olaias of Lisbon, the fifth Westminster, in London, and the sixth T-Centralen, Stockholm. The Paris Metro is the square only in ninth place, with the station Palais Royal-Musée du Louvre.
For the record, the stop Toledo is part of the Line 1 of the Naples metropolitan area and is located in the San Giuseppe. Is one of the twelve stations of the art capital of Campania (together with Università, Dante, Museo, Materdei, Salvator Rosa, Quattro Giornate, Vanvitelli, Rione Alto, Mergellina, Lala, Augusto and Mostra) conceived as part of a broader complex artistic-functional able to make not only the environments more comfortable and efficient , but also the most beautiful from aesthetic
point of view.
The recognition of CNN just a few months what the British newspaper The Daily Telegraph's argument that the Toledo station is the most beautiful in Europe. Primacy, which in part was also confirmed in 2013, when the station of the district San Giuseppe was awarded the prize Emirates leaf international award for "PublicBuilding of the Year".