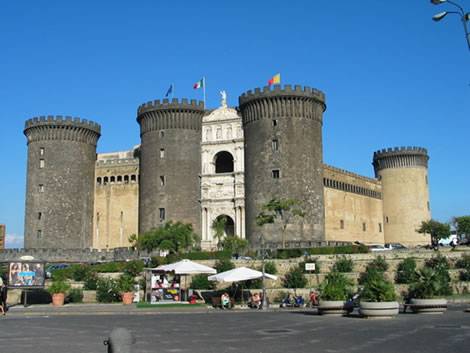 The curtain rises on the beauties of Naples! Kicks off the 20th edition of "May Of Monuments", the famous event, always in-depth study of significant cultural importance for citizens and tourists. The event coincides this year with the Universal Forum of Cultures Naples. And for 2014 will be inspired by the famous text of Benedetto Croce: "Stories and Legends Neapolitan". Published for the first time in 1919 by Laterza. Maggio, will offer themed routes, which follow precisely the topics covered in the book written by the great philosopher. Program consists of a vast project of lectures, readings and guided tours on the "theme Croce" and contributions by local associations, which like every year propose their projects to the cultural city of the siren Partenope.
In this context, there is a special section starring: the Istituto italiano per gli studi storici, the national library "Vittorio Emanuele III", the Società napoletana di storia patria, the Accademia pontaniana, the Società nazionale di scienze lettere e arti, the Istituto italiano per gli studi filosofici, the Fondation Premio Napoli, the Stazione zoologica "Anton Dohrn" to witness the deep bond with the teaching, the life and work of Benedetto Croce offering the contribution of the high traditions and heritages that guard.
In addition, there are eight paths artistic / literary itineraries tourist / cultural equally inspired by the work of the great philosopher that wind over the five weekends of "May". Another feature is the special adoption program carried out by the Fondazione Napoli 99 with his project "The school adopts a monument" which, this year, will sit alongside the entertainment activities cultural activities in the territory of the historical schools in Naples. New for 2014, the extent of this activity to neighboring towns such as Castellammare di Stabia and Boscoreale who have embraced the program with its own "May" Neapolitan.
Promotional campaign of May of Monuments has been entrusted, even for the edition , 2014, to the talents of the Academy of Fine Arts in Naples for the occasion have developed a graphic design and audiovisual very powerful impact.
[charme-gallery]