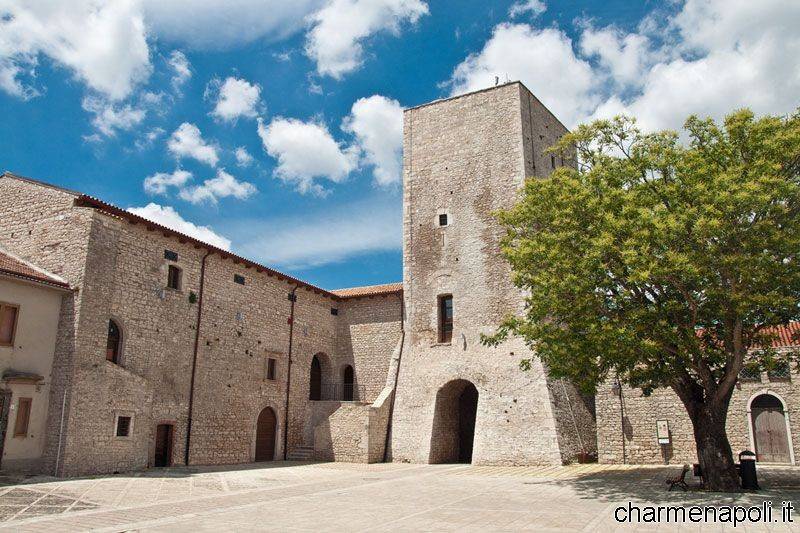 Irpinia, a land of castles and ancient feuds. Principalities and baronies. An ideal place for the building of fortresses and strongholds, especially in the Lombard period and Norman impregnable bastions. Wall pass to the raids of the Saracen pirates who, from the coast, were pressing to spread inland. Stone sentinels. Mute witnesses of events and acts of violence handed down for centuries, up to the present day. From the magnificent Norman Tower of Casalbore up to the ruins of the Longobard Castle of Montoro Inferiore, passing through the charming fortified village of Castelvetere, through to contemporary rock of Ariano Irpino, these stone giants draw a symbolic route, traced palm palm by generations of lords and warriors were born and raised in the green land Avellino. A priceless heritage of art, history and architecture that deserves to be known and valued way. From here starts the initiative "Museo dei Castelli di Casalbore", born from the collaboration between the Cultural Association Terre di Campania and the City of Casalbore.
It is a trail-exhibition devoted to the secular manors of Irpinia. The museum has as its core the Photo Exhibition "Images such as travel notes – Castles and Fortifications in the province of Avellino", created by art director Giuseppe Ottaiano, photographer by passion. Inclusion of each castle in the bells so special photo gallery shows not only the history but also that of the territory to which part, together with the cultural peculiarities, food and wine, art, legends and anecdotes that mark.[charme-gallery]
Besides the exhibition the "Museo dei Castelli" consists of a trail dedicated to the discovery of the world of castles and medieval centuries, with the possibility to participate in educational workshops on the topic. In addition, the premises of the Norman Tower are also organized conferences, presentations, tastings and events dedicated to promoting the territory and its typicality. And from September there will be the opportunity for visits of pupils of schools, making it an attractive proposition training for all schools bells The festival also aims to expand the photographic exhibition thanks to the inclusion of the castles in the Sannio Benevento.
A visit to the "Museo dei Castelli" of Casalbore is an experience not to be missed to discover one of the most fascinating parts of the Campania region. The "Museo dei Castelli" is open by appointment all weekend and by appointment on any other day of the week for groups or not. Special openings are scheduled throughout the year and at events.
Opening hours
Morning from 10.30 to 13.00
Afternoon 17.00 to 20.00
e-mail: info@museodeicastelli.it; info@terredicampania.it