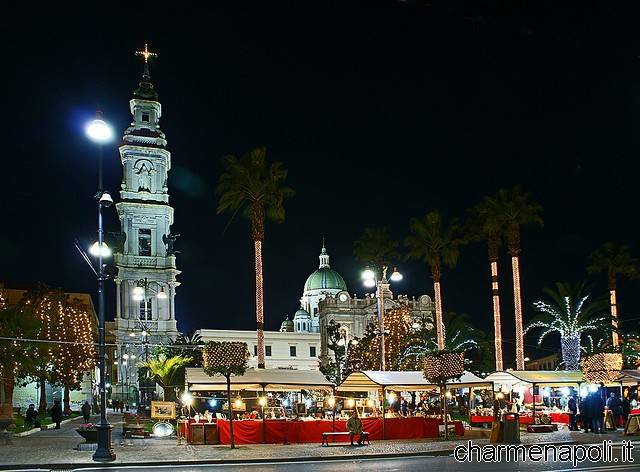 Are numerous and original works of art crib, strictly handmade, the ones you can admire the Sanctuary of Pompeii at Christmas. The crib tradition of Marian city has, in fact, more than one hundred years old and dates from the same founder: Blessed Bartolo Longo. Among the cribs on display pilgrims can admire one of Domenico Bonifacio, artist of Torre Del Greco (Napoli), who a few years ago worked on the realization of the crib set up in the Sala Clementina of the Apostolic Palace and donated to Pope John Paul II.
Particular is also the monumental crib (prepared, as always, in the spaces of the Educational Center "Bartolo Longo") representing the proposal stylistically new and modern, interesting not only for its size but also for the myriad of details that set it apart. In this evocative representation of the birth of Christ, which opened last Saturday, will be joined, as of 16 December, the traditional Neapolitan Christmas cribs, those set up in the room offered, in the Museum of the Sanctuary and in Piazzale Giovanni XXIII.
Days and times where you can visit them can be obtained from the Office Rector or consulted at www.santuario.it. The liturgical appointments always start the day with 16 Christmas Novena: the appointment for the faithful is every morning at 6.30 am and then take part in the Holy Mass of 7 am. Sunday, December 21, the novena will be brought forward to 6:00 am. On December 20, at 8 pm, he renewed the appointment with the traditional Christmas concert in the Basilica Complex Band "Bartolo Longo-City of Pompeii", which this year celebrated its 120th anniversary. The celebrations will culminate with the Mass of Christmas Eve that will begin at midnight.