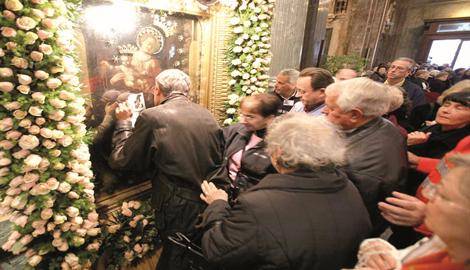 Given the true date of birth of the New Pompeii, the anniversary of tomorrow, November 13, recalls the arrival in 1875 of the Picture of the Virgin of the Rosary, led by Naples behest of the founder of the sanctuary Bartolo Longo. The Vesuvian town is preparing to celebrate the event with the traditional date of the Descent of the Framework. The day in which the Holy effigy you get off the Throne and stands in the sanctuary to allow the faithful to venerate and, with a kiss, to thank the Virgin Mary.
The beginning of the celebration is scheduled for 6 am with "Hello Mary" presided over by the Archbishop of Pompeii, Archbishop Tommaso Caputo. Masses will be celebrated from 7 to 20 in the room "Luisa Trapani". At 11 am the pastor of the Church of Pompeii, officiate the Mass, followed by the recitation of the Supplication, prayer widely known, composed by Blessed Bartolo Longo in 1883. Late in the evening, after all the faithful in a row will have made their own tribute to the Virgin the panel will be placed back on the throne.
The Office of the Rector, led by Monsignor Pasquale Mocerino, has developed a range of services to facilitate the best possible influx of the faithful, especially the disabled, who will be a path easier, thanks to the contribution of the Police and to the collaboration of numerous charities: Doctors association Medici San Giuseppe Moscati, Cisom, Unitalsi, Croce Rossa, Croce del Sud, Ospitalità of Pompeii, Tourist Tutors, Confraternita Misericordia of Pompeii.
[charme-gallery]