Only one euro tonight to enter tonight in what was Royal home.
At the Royal Palace of Caserta, evening opening of historic apartments every Saturday evening and until October. But on Friday, 28th, this is an extraordinary opening from 19.30 to 22.30, with the last entry at 21.45.
The extraordinary event is intended to promote initiatives aimed at fostering the knowledge of cultural heritage through a dense schedule of activities. For all the openings in the evening, the "Flash Visits" are conducted by the receptionists and custodians of the Reggia of Caserta. Guides for one night.
Let's see what will be the program tonight.
"Mary Sofia of Bavaria" focuses on the last Queen of the Two Sicilies in the Hall of Alabardiers. Apartment of the '700; "Ferdinand IV's boar hunt at Calvi", the passion of hunting for the Bourbons turns into true obsession. So much to commission to J. P. Hackert a series of paintings subjected to a lighting engineering experiment: the "increased reality" in the Winter Hall. Apartment of the 700, lighting designer Francesco Caporto. "The Knightly Tournament", historical reenactment and gala event of the Bourbon court. A storytelling actually increased in the Bedroom Anticamera of Francis II. Apartment of the 800, lighting designer Francesco Caporto.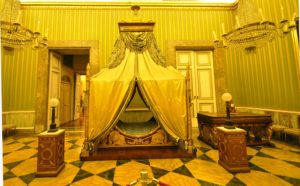 The revolution is us, tribute to Joseph Beuys. Company of the City & Factory Wojtyla, presents at the Royal Palace of Caserta Three solitary worlds, new traveling dramaturgy by Patrizio Ranieri Ciu. The world that was, the world that is, the world that will be. Sale Terrae Motus at 19.45. "Dancing at Court" dancing show in three parts: Reverse, Ethereal and Panta Rei in Upper Vestibulum at 20.00. In addition, during the evening opening, you will also be able to visit Klimt Experience in the Ex-Aeronautical Halls in front of the Park until 10.30pm.
For more info about Reggia Caserta's evening opening of the historic apartments these social addresses of the property.
Facebook page:  https://www.facebook.com/reggiaufficiale/