AperiVisita is the cycle of evening visits that even this summer will allow many to admire the catacombs of San Gennaro at the moonlight.
To the Catacombs of St. Gennaro with a night visit for five consecutive Saturdays starting July 29. AperiVisita is the title given to the cycle of the five evenings dedicated to the catacombs of the Patron saint. Each exclusive guided tour will allow you to discover one of the most fascinating subterranean reality in southern Italy.
A descent into the beauty of the mystery, between arcosols, mosaics and frescoes. Start Saturday 29th July and follow on schedule on Saturday 6th – 13th – 20th and 27th August. Appointment at 20 and 21 and only by reservation.
Why AperiVisita? Because the visit will be enriched by the aperitif offered by the excellence of the Healthcare District and the Neapolitan micro brewery Kbirr, creator of the unfermented light beer "Natavota" dedicated to San Gennaro. Do not forget to book because the evenings will be closed. Here's how to do it. Call 0817443714, or write a detailed mail with telephone contact details and number of participants at: prenotazioni@catacombedinapoli.it. But we also see the costs of visits. The full ticket costs € 12 per person, but is free for under 12.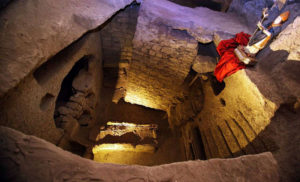 For those attending AperiVisita, Catacombs of San Gennaro with a night visit, remember that the entrance to the archaeological site is from Via Capodimonte, 13 to Naples. In fact, right next to the Basilica of the Incarnate Mother of the Good Council. There is also a large outside area for parking. For those coming from the Tangenziale the recommended outlet is that of Capodimonte.
The event is supported by the Third Pilastro Italia and Mediterranean Foundation and the Politeia Institute under the "Art in Art" exhibition.
The website of the structure is at the link: http://www.catacombedinapoli.it/it
The social page is at https://www.facebook.com/CatacombeDiNapoli/