A Wedding Contest for the day of a spectacular mega cake.
The Napoli Neapolitan Boss Francesco D'Alena signs the wedding cake for the contest #sevincotisposo that in a few days will allow a couple of future wives to win them for their wedding day.
A dreamy mariage gateau with baroque echoes, declined in white and gold and two meters high. A real artwork in Anglo-Saxon sugar paste and the Parthenopean heart … all to be enjoyed beyond what to admire.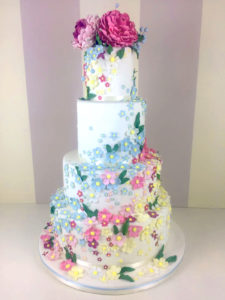 Few and simplistic steps to participate in the InBlockContest and try to win the prize pool. First rule: sign up for the event "All Sposi", the largest Italian wedding fair to be held in Naples from 21 to 29 October at the Mostra d'Oltremare and take the stage from the Boss of Neapolitan cakes at Hall 2 – stand 245.
Once in the realm of delights, future spouses will have to shoot a selfie (from 21 to 28 October) who see protagonists as well as themselves the megatheter, to then publish on their social with the caption @ilbossdelletortenapoletano and hashtag #sevincotisposo. Last step, follow the Facebook page @ilbossdelletortenapoletano.
By visiting the social page and its website, you will be able to admire all the suggestions of the D'Alena pastry master who, in addition to mega cakes and cake design, has in his package of offers even small caravans of the age. During any kind of event, and at any location, you can prepare for present guests burgers cooked at the moment, or succulent pasta and beans and flavorful fried seafood. Of course not forgetting the wonderful aperitifs.
Anyway, the extraction of the majestic wedding cake put on Full Sposi will be live via social on Facebook on Sunday, October 29, at 6pm. So, future spouses, what do you expect? Have him visit.
Web site: www.ilbossdelletortenapoletano.it