Jazz Concert and Catacombs of San Gennaro on May 20 for a special Saturday.
Two-piano concert of the jazz pianist duo Paolo Alderighi and Stephanie Trick (USA), special guest Martin Breinschmid (vibraphone and drums – Austria), in the splendid location of the Basilica of San Gennaro extramano. The two pianists return to Naples for the fourth time with a new project devoted to the history of jazz music, from classic to contemporary.
The Concert of Jazz and Catacombs of San Gennaro will celebrate the 100th anniversary of the first jazz vinyl record in New York in 1917, featuring the original Dixieland Jass Band in New Orleans.
Two pianos for a musical journey unbeatable in these hundred years of songs where euphoria, spectacularity, elegance and intensity blend together perfectly. A repertoire of all the greatest songwriters and stars.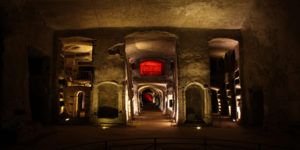 The proceeds of the Concert Jazz and Catacombs of San Gennaro will be donated to the San Gennaro Onlus Community Foundation to support the MEMO project of Moms of the Health Care District
The ticket includes a guided tour of the Catacombs of San Gennaro, entrance to the visit: from 19:30 to 20:00
For info and reservations: 081 7443714