Neapolitan exposure Office of Alessandro Kokocinski, painter, sculptor and Italian designer of Polish-Russian origin, entitled The Life and the Mask: Pulcinella the clown, it will be from 7 April to 5 June the National Archaeological Museum. The exhibition will be divided into six areas, climbing continuously for indications: Arena; Pulcinella; Petrushka; Dream; The Clown; Inner mask.
The exhibition will contemplate a corpus of over seventy works of different materials with strongly innovative techniques – paintings, sculptures, reliefs, installations, drawings, films, poetic verses, artist books – inspired by the metamorphosis of the "mask" that the artist calls " mediator between us and the unfathomable emptiness hidden, "whose iconography has always accompanied the history and art history: between myth, fiction, reality. The papier-mâché – essential medium of almost all the work – is the absolute protagonist, coagulating element, ephemeral matter. The boundary between audience and stage thins and eventually disappear.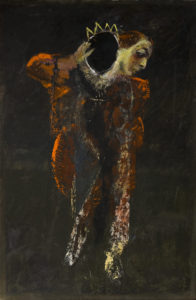 The puppet goes down in the human, the human becomes puppet. The tour will be led by three large installations that will be Holocaust of the tragic clown, I have not done on purpose – the latter use of the valuable participation of Lina Sastri, in an accompanying video – and look at the emerging future, especially recent creation realized for this exposure.
Website for all the details www.museoarcheologiconapoli.it/it/
Website of the www.kokocinski.org/biografia