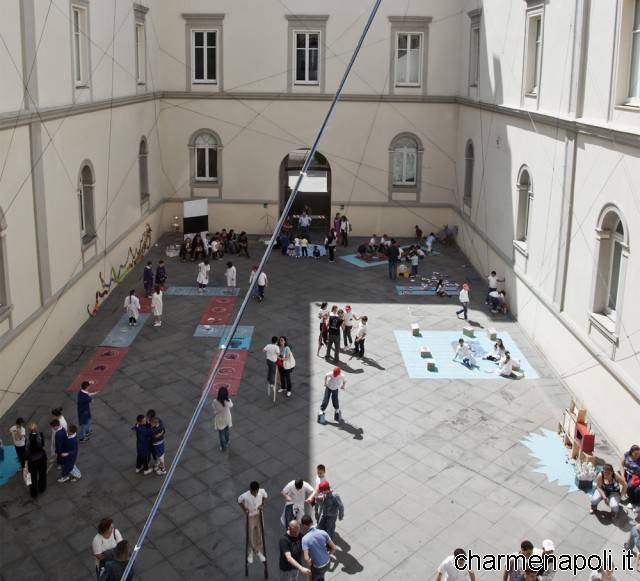 The museum Madre, in collaboration with Space Nea and TRIP, presents "Metropoli Madre": a contemporary event, where art, music, video, interact, reinterpreting the city of Naples and tune it on the sounds and the atmospheres of large cities. "Madre Metropoli" is an open invitation to be fascinated by visions, proposals and projects that demonstrate how culture and entertainment can be catalysts for change and energy of urban contexts, elements of a modern metropolis that blends with art simultaneously and, therefore, with its museum.
Each appointment develops performances, videos, performances in which the interaction between music and the visual arts reproduce the atmosphere of the big cities, from London to New York, from Barcelona to Naples. In the background research on the relationship between globalization and interculturalism, which starts from the survey of the memory of people and places belonging to the largest metropolises in the world. A reflection on the concept of Naples as the city "global" that seeks to identify the common traits of its inhabitants bringing out cultural roots submerged and investigate the positive and negative aspects of the historical changes and their impact on culture.
Friday, June 6th, 10:00 p.m. to 02:00 p.m. hours
MetropoliMadre
Museum Madre (Courtyards ) – via Settembrini , 79 – Naples
Admission 20 €
The main courtyard
h. 10:00 p.m. to 10:45 p.m.
opening_ Métropolitude_ musical project by Manlio Orlandi
h . 10:45 p.m. to 11:45 p,m.
Rockit_Progetto audio / video by Bruno Fiengo
h . 11:45 p.m. to 1:15 a.m.
The guest_Louis – Roche_ Dj-set Electro Funk / Nu Disk
See and hear the sounds immagini_ Video mapping by Sound and Vision Lab
h . 1:15 a.m. to 2:00 a.m.
closing_Selezione music Orlando Visciano
Set design by the students of Photography Aniello Barone, professor at the Academy of Fine Arts in Naples and Rockit .
Courtyard secondary
h . 10:00 p.m. to 00:00
Here Guest_ Mister N. Sam_ Project Audio / Video Music Style – Electronic & Classical
During the event there will be shooting for the creation of a promotional video edited by Fee & Go Film Production