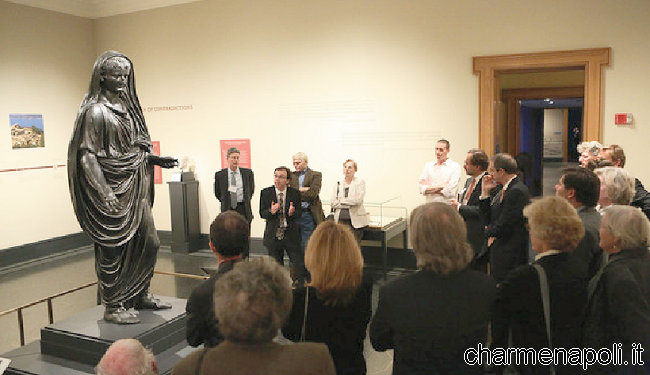 Naples-U.S. and return. The "Tiberio of Naples", the large bronze statue depicting the Roman emperor (14-37 AD) who loved to stay longer on the island of Capri, returns to the light at the Getty Villa in Malibu, near Los Angeles, where will remain on display until March 3rd. Damaged by the eruption of Vesuvius in 79 AD, the giant bronze (eight feet high by five hundred kilograms of weight) was found, fortuitously, in 1741 during the first excavations at the site of Herculaneum.
The statue – on loan from the National Archaeological Museum of Naples – before returning to its historic "dwelling" on the shores of the "Golfo", will remain on display a few days in the Getty Museum, home of the only archaeological museum in the United States and in whose laboratory were operated restoration work, at the center of the exhibition "Tiberius : portrait of an emperor", organized in collaboration with the Italian Institute of Culture and under the auspices of the Consulate general of Italy in Los Angeles.
[charme-gallery]
The project is the second of the Getty Museum in Naples after the joint venture with Apollo darting three years ago. Work considered to be "heroic proportions", the "Tiberio of Naples" was not exposed for decades to problems of structural weakness and bottom of the base. Return the impressive bronze sculpture in the halls of the American Museum was the first goal of the collaboration and to do this the restorers of the Getty, which are considered among the best in the world , have developed a new internal support that distributes equally around the 500 -pound bronze statue.
Tiberius was also cleaned up completely in order to bring to light the patina that probably had when he was exposed for the first time at the Royal Museum of Portici. Now , for a while, will enchant visitors to the U.S. museum. Then, once at home, he can return to appear in all its former glory visitors to the Archaeological Museum of Naples.