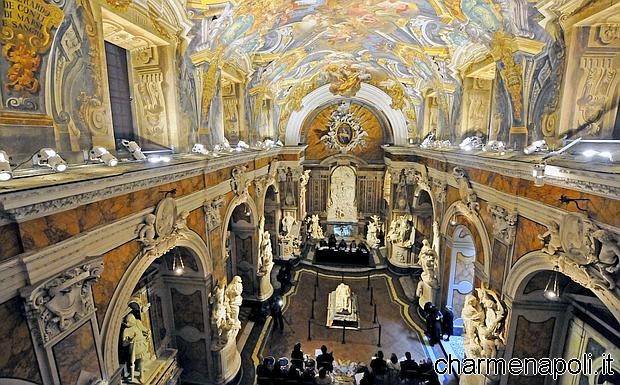 Who was Prince Raimondo di Sangro and what wonderful treasures are hidden in the halls of the Chapel of Sansevero? In this and other questions are answered by the artists of the cultural festival NarteA in the emblematic title "The Testament of Stone". A real "visit to the theater", revived again this year (after the success of the previous editions), organized in the footsteps of the celebrated Neapolitan alchemist, discovering the works of art housed in the baroque temple to place a stone's throw from Piazza San Domenico Maggiore, one of the most magical places in Naples that houses in the heart of the historic center. Artistic treasures known throughout the world as the "Veiled Christ" of Sammartino, the statues of the "Modesty" and "Disillusion" and the extraordinary "anatomical machines" depicting two bodies stripped to the bone in which it is possible to observe the entire circulatory system.
[charme-gallery]
During the "tour", a play performed by professional actors will revive, with monologues and dialogues, both the figure of the prince is the story of the famous building once dedicated to Santa Maria della Pietà (or "Pietatella"). Here then pull out the works of the Chapel and those of Underground Chamber, in a real trip back in time and show that exalt the genius of one of the most fascinating and emblematic of the history of Naples, suspended between alchemy and mystery, stories and scientific studies. An "extraordinary man prepared to take all the things you dare […] famous investigator of the hidden mysteries of Nature" as stated in his tombstone.
The initiative of NarteA presented (and launched) to Naples on January 18, will be offered once a month (the next stop February 22 ) until the last date, scheduled for August 9, 2014. Always from 7 pm hours to 8 pm.
"The Testament of Stone"
Museo Cappella San Severo
Via Francesco De Sanctis, 19 Naples
appointments:
February 22, 2014, h. 7 pm and 8 pm
March 25, 2014, h. 7 pm and 8 pm
April 18, 2014, h. 7 pm and 8 pm
June 14, 2014, h. 7 pm and 8 pm
July 12, 2014, h. 7 pm and 8 pm (in English)
August 9, 2014, h. 7 pm and 8 pm (in English)
Reservations required (limited seating): phone 339.7020849 and 334.6227785
Event participation fee: EUR 15.00 for person (adults); € 10.00 reduction from 12 to 17 years; gratis for children up to 11 years.