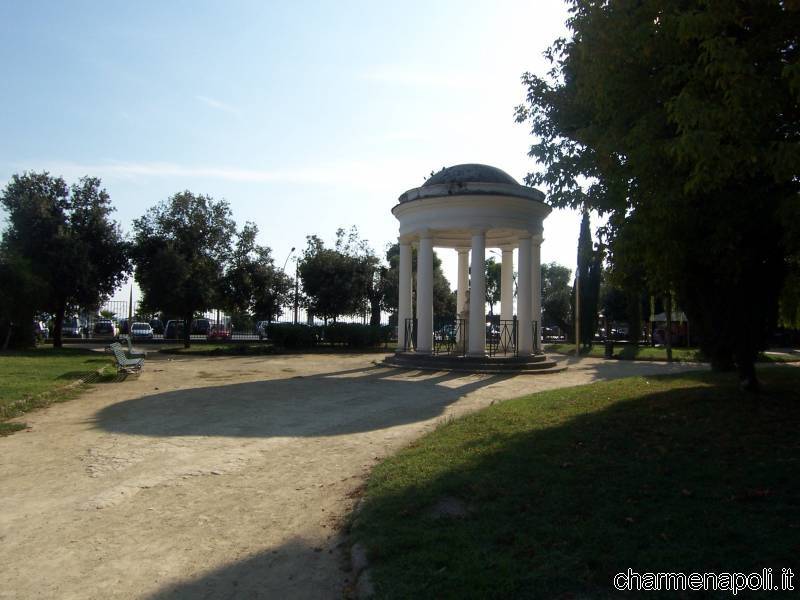 Alexandre Dumas spoke of it fascinated. The Royal Villa in Naples? 'It's without doubt the most beautiful and especially the most aristocratic walk in the world", he wrote, in 1835, the famous author of "The Three Musketeers" in his Travels in Italy.
A marvelous landscape! Commissioned by King Ferdinand IV of Bourbon, a stone's throw from the Gulf: 'the Mediterranean sea instead of the Seine, the extension, the space, the infinite instead of the Quai d'Orsay' the French writer narrated. No more to add.
The most famous garden of Naples, with its oaks, pines, palms and eucalyptus trees stretching for almost a kilometre between Piazza della Repubblica and Piazza della Vittoria, traversed by the sides of Via Caracciolo and the Riviera di Chiaja. Its original construction dates back to the late seventeenth century, when the vice king Duke of Medina Coeli, thinking about a 'green promenade', which would extend from the Royal Gate to the Crypta Neapolitana, had planted a double row of trees embellishing them with the installation of 13 fountains.
In 1778-80, thanks to the intervention of King Ferdinand IV of Bourbon, the whole area was transformed into an actual public park like Charles III of Bourbon, father of Ferdinand, had done with the Salon of the Paseo del Prado in Madrid.
The villa was redesigned by Carlo Vanvitelli, Luigi's son, the architect of the Royal Palace of Caserta, who conceived it as a straight path dotted with fountains and sculptures. Thus, the 'Royal Walk of Chiaja' was born: a space dedicated to the fun, where one would walk and listen to music near the sea, just like the Tuileries in Paris.
Revisited several times, the gardens have assumed its present appearance at the end of '900. However, new projects would like to extend the green area as far as the sea after the closure to traffic of the surrounding streets.
The 'Royal Walk' will be the destination of the trip organized by the association Locus Iste on November 9 as part of the festival 'The sea around Naples'. A fascinating tour through the trees of the 'green park', the discovery of fountains, statues, buildings, to the aquarium of the Anton Dohrn Zoological Station, the flagship of the lung of Chiaja. The right place to find out that the sea around Naples is populated by many beautiful creatures, mysterious and fascinating. (translated by Mauro Di Fenza)
'The sea around Naples'
by the association Locus Iste
Saturday, November 9th 10:30 am
Villa Comunale of Chiaja
Organizational contribution : € 5 + € 1.50 for the ticket to the Zoological Station Anton Dohrn
Meet at 10.30am at : Piazza della Vittoria entrance Villa Comunale
Guide: Barbara and Antonio
Reservations required by 19.00 on the day before the visit
Info and reservations: tel. 3934684091/3478586475
locusisteinfo@gmail.com
locusisteblog.wordpress.com
Facebook page Locus Iste