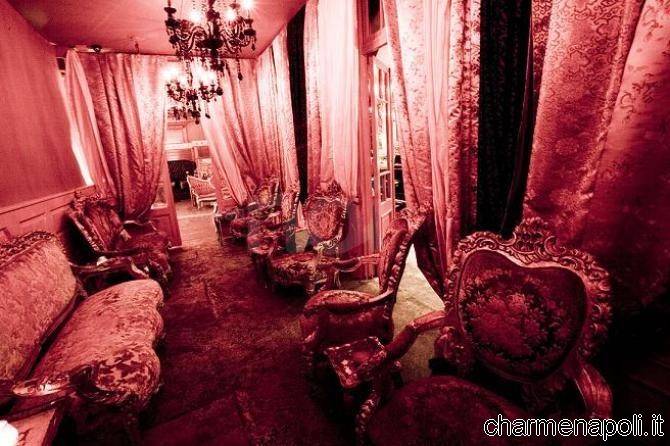 On the trail of the oldest profession in the world : the next weekend a discovery tour of the former brothels Naples. For spying through the keyhole in the rooms of sin.Venghino venghino gentlemen … and the gates of the old brothels of Naples , as if by magic , will return to widen. But only for the weekend . And just for a "journey" spicy nostalgic has little or nothing. The event is scheduled for Saturday 16 and Sunday, November 17 inside the Galleria Umberto I in Naples with the tour organized by the cultural Insolitaguida : "Sin , when the houses were closed … " .
Tantalizing popular legends and testimonies , provided by Luigia Salino , will accompany the sensual journey of discovery of numerous former alcoves scattered throughout the city and now converted to hotels and residential applications.
[charme-gallery]
The narrated tour will wind through the streets of Chiaia , parlor of the city , where up to half a century ago , they were the finest houses of pleasure , a favorite of the noble Neapolitan , until arriving to the Spanish Quarter , the heart of the city. First stop , a visit to the historic " Monferrante " vico Sergeant Major , counted at one time among the most popular and famous brothels to satisfy even the most demanding and impatient to which were advanced telephone services rendered by the gentle maidens .
The turn to " red lights " will continue with a visit to the famous casino Salita Sant'Anna di Palazzo , now a luxury hotel , better known at one time as " The Supreme ", where the fixed rate was 12 lire.
Moving from room to room , the passion will be expected to rise and with it the imagination that will evoke the atmosphere of those years between the rustle of lace and garters of the journeyman 's pleasure all the fanciful names of art: Mimi do Vesuvio , Anastasia ' in Friuli, Nanninella ' in Spanish , Dorina from Sorrento .
There was something for every taste and every budget , even for eager fans from lean portfolios that were fresh approach to the "House of the three old women " in Montesanto , where mature ladies dispensed " joys " for little money. The path " spicy " will end with a finding authentic for true connoisseurs : a short letter written by a famous character tied to Naples , to finance their studies , he worked in a brothel . The identity of the mysterious man will be revealed only to tour participants itchy .
"Sin , when the houses were closed … "
Saturday, November 16, 2013 , h . 17:30 ( seats already sold out )
Sunday, November 17, 2013 , h . 18:00 ( seats still available )
For reservations: http://www.insolitaguida.it/prenota.html
Cell: 3389652288 – Participation fee : 6 € , 5 € for students, over 65, associated
Appointment: Galleria Umberto I in Naples