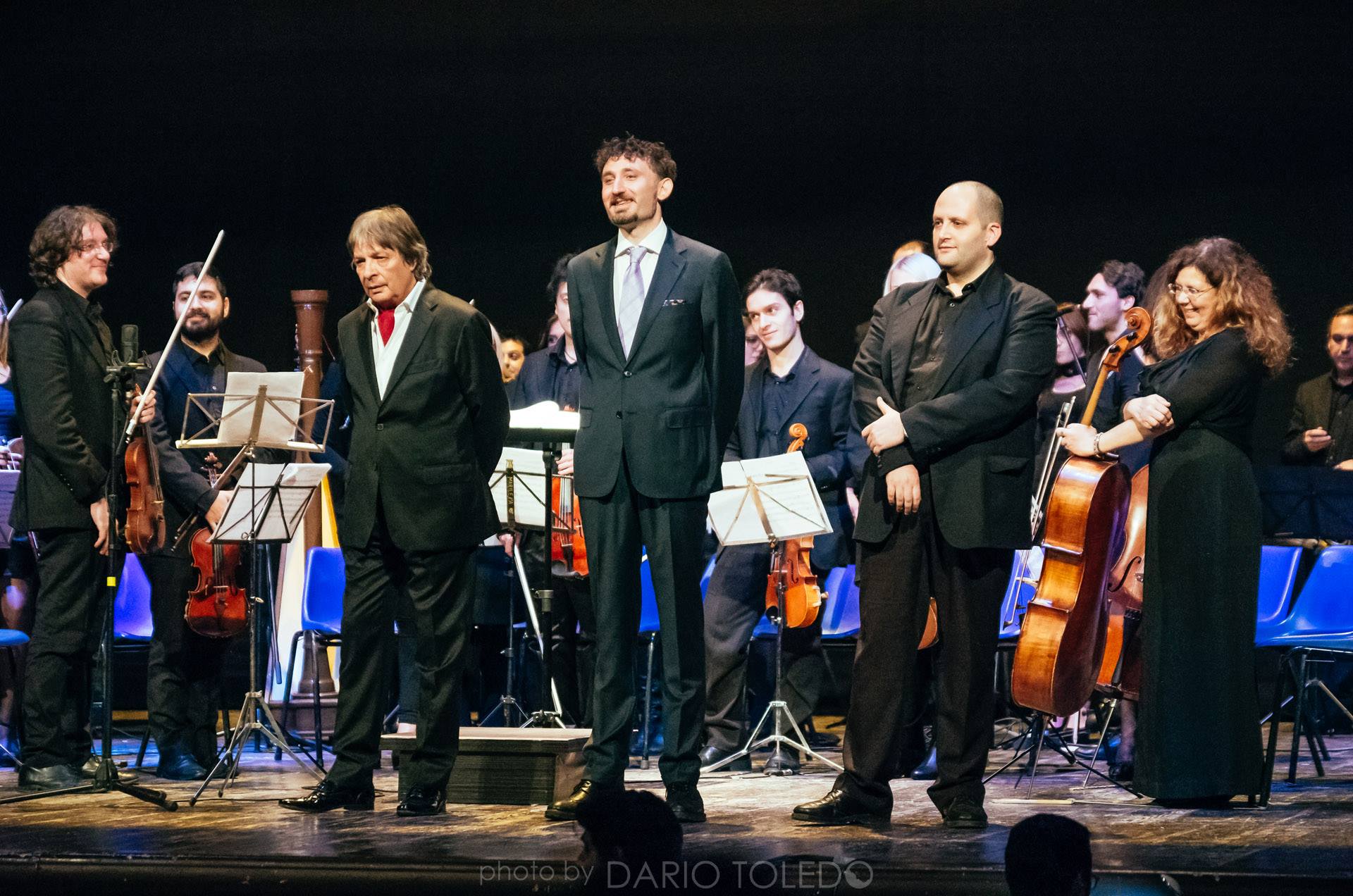 Resounding success for Stefano Gargiulo at the Teatro San Ferdinando of Naples, full of people (there were more than five hundred) at the first concert "From Paradise" the young musician of Capodimonte, professionally accompanied by his guiding light maestro Gianni Ephrikian. Present in the audience, for special wishes to the composer, the mayor of Naples, Luigi de Magistris and the Councillor for Culture Alessandra Clemente. The presenter Ralph Stringile opened the evening by telling the story of Gargiulo awarded a year ago in Los Angeles with the "LA Music Awards" for "Best Instrumental Album of the Year 2014" and the recognition of him tributatogli also by the City of Naples. Then he touched the history of professional master of Gargiulo, Gianni Ephrikian he awarded scope "LA Music Awards" for 2015.
The concert began with so much emotion overcome by the professionalism of the orchestra "San Giovanni", excellently conducted by Gargiulo (which alternated with Ephrikian). Simply sublime master Keith Goodman at the piano, the guitar master Giovanni Dell'Aversana. Beautiful voice of soprano Ilaria de Martino, as well as the dancers Imma Tammaro e Ercole Sabatino. Enchanting poetry "La Vita" sung by the young Mariano Daniele. Exceptional presence on the stage of San Fernando, Laura Ephrikian actress and writer who has nicely duet with her brother Gianni telling his work of solidarity in favor of African populations. Between runs other Stefano Gargiulo devoted, emotional voice, a song with his father and brother lost recently, running them with the heart and professionalism that comes with the young rising star of the international music scene.
"Simply moved. A dream come true. You can not imagine the myriad of inside stories that lie behind this show. I want to thank all those who have been involved. Everyone gave me a joy and their art, I will never forget, ever, "Gargiulo said at the end of the show.