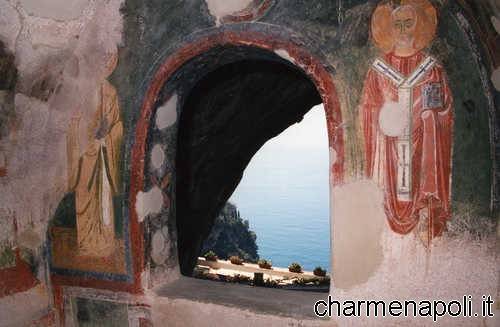 From the Cilento to Capri there are temples dedicated to our God full of works of art unknown to most visitors which deserve a visit when the air is warmer and the night breeze inspires intense moments of reflection and prayer.
This is the case of the Santa Maria dell'Olearia abbey complex first built on the slopes of Mount Falerzioat Maiori, near Amalfi, between 973 and 987. It is now an overlaying of three small churches built at various times. The oldest part is the crypt. This is followed by the main chapel, and the chapel of San Nicola, where the remains of some frescoes attributed to Leone Amalfitano, a Benedictine monk living in the year 1000, may still be seen. Other notable frescoes are preserved in the crypt, where, according to legend, Fra' Gerardo Sasso di Scala lead the proselytes to create the knights hospitaller of St. John of Jerusalem.[charme-gallery]
At Anacapri, rises another suggestive church: San Michele, also known as "Paradiseon Earth". The church boasts of a famous majolica tile floor, rivalling the more famous ceramics of the Neapolitan cloister of Santa Chiara. The work was by the "master tiler" Leonardo Chiajese (1761) from drawings by Solimena, and features the scene of Adam and Eve's expulsion from Paradiseon Earth. San Michele is part of a convent complex built during the XVII century by the nuns of Santa Teresa. Decorated with stuccoes, it is an emblem of the "made in Naples" Baroque and preserves a number of canvasses by artists of the 1700s.
The church of Maria Santissima della Libera on Capri is dedicated to San Costanzo. The cathedral of the Capri bishopric from 987 to 1560, the church is one of the oldest on the island. Over the years the structure has seen numerous rennovations and today what remains of the older churches are a water colour by Giacinto Gigante from 1840 and a rare floor of the Roman era.[charme-gallery]
Overlooking the sea at Stabia is the sanctuary of the Madonna della Libera, situated on Mount San Cataldo at Castellamare. Its name derives from a rock painting of the "Madonna della Libera" which can be seen in the sanctuary, built by the Benedictine community which was established here in about the X century. The painting, of Byzantine manufacture, was made at that time but then covered with a layer of plaster, only being rediscovered by Professor Chierello in 1939.
Finally, in Sorrento there is the extraordinary convent complex of San Francesco d'Assissi, composed of the church, the centuries old monastery and the magnificant cloister. Inside the XIV century church, rennovated in the Baroque style by the friars, besides elements from old pagan temples, are two 1700s frescoes found during the 1926 restoration, featuring Sant'Antonio di Padova e San Giacomo, and a wooden statue of San Francesco with Christ crucified. In the VII century monastery, it is possible to admire the 1300s cloister of San Francesco, one of the oldest monuments of Sorrento, used today for exhibitions of art and music and for civil weddings.[charme-gallery]