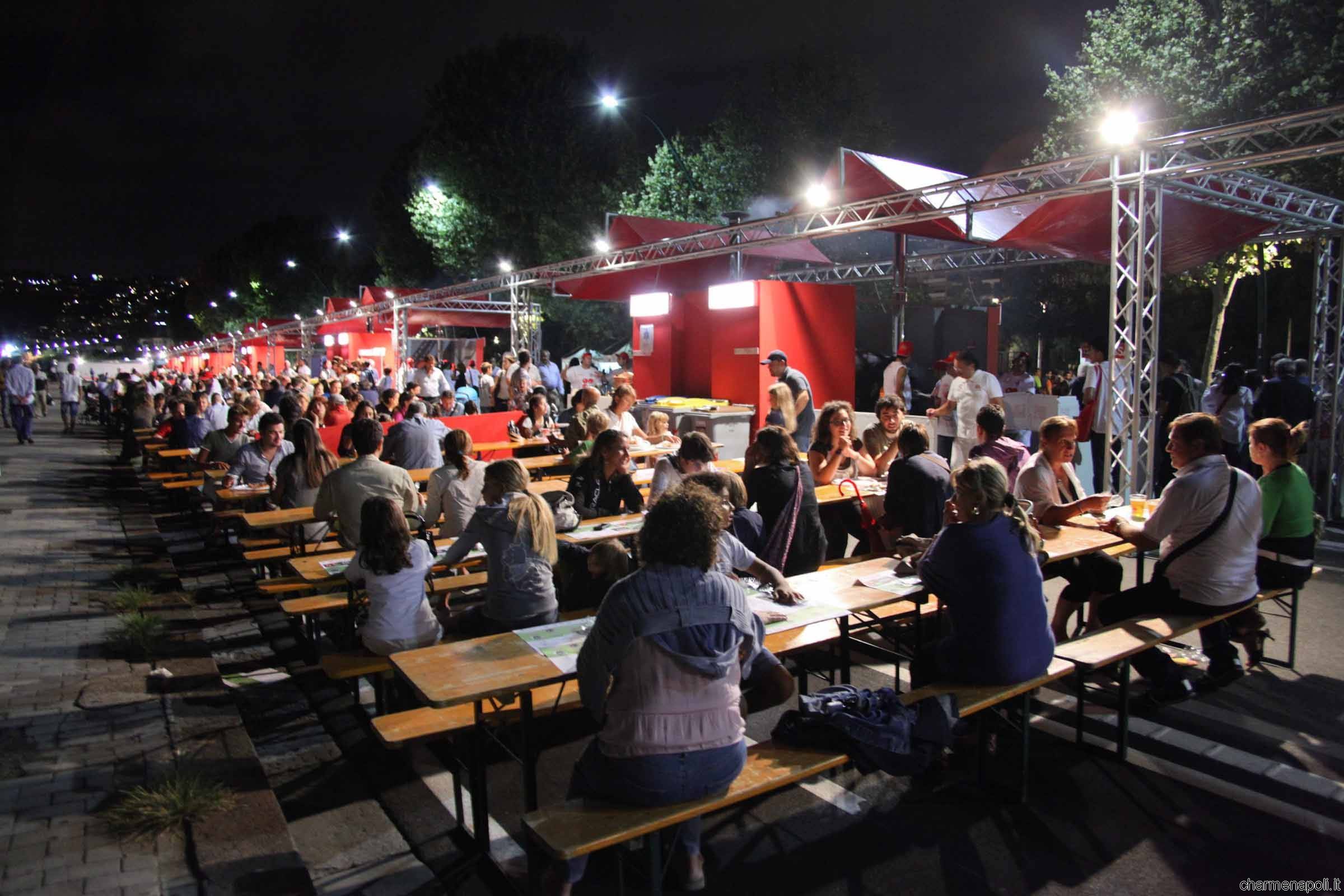 Double opening for the event "Napoli Pizza Village", organized by the Association Pizzaiuoli Neapolitans, on the Seafront Caracciolo of Naples. The kermesse, which opens its doors this evening and will keep them open until September 7th, will welcome the public at 6 pm, and the official opening will take place with the ribbon cutting of the mayor of Naples, Luigi de Magistris at 7 pm in Republic square.
The fourth edition of "Caputo Napoli Pizza Village"festival is every year more and more important and rich. For the "2014 edition" points to 500 presences. Will start with the conference "The art of pizza, Unesco heritage" – at 3 pm in the hospitality – wanted by the president of the Foundation UniVerde Alfonso Pecoraro Scanio, attended by among others, the Secretary of State Giuseppe Castiglione and the President of Italian National Commission of Unesco, Giovanni Puglisi.
Focal point in the first two days of the event of the Seafront Caracciolo, is the World Championship of Pizzaiolo – Trophy Caputo with over 500 competitors in the race who come from 40 countries from all continents. Up for grabs with 8 titles, one for each category, as well as the Trophy of Nations reserved for the 9 winners of the World Cup qualifying stages of the Caputo Cup which was held in Portugal, the Netherlands, Russia, Australia, Japan, Israel, Taiwan, United Arab Emirates and the USA. Viewers will follow in the stands of the "Stadium Pizza" – located at the Rotonda Diaz from 6 pm to midnight – the races and the performances of the competitors.
The stage set up in Naples Pizza Village – located between Viale Dohrn and height confluence via Caracciolo – and managed by the national network Kiss Kiss, will be the reference point for the music and the shows. Special guests of the evening before Francesco Paoloantoni and Stefano Sarcinelli who will perform at 10:30 pm (free access).
Between an appointment, a conference and a show space for pizza. A ticket must be purchased within 24 speakers distributed in the village three points, will be able to taste: a pizza, a drink, a dessert or ice cream or a coffee. The pizza can be chosen later this year and have been joined every two pizzerias point distribution of soft drinks (water Lete, Nastro Azzurro beer and drink Pepsi and coffee Kenon) to reduce waiting times.
Caputo Napoli Pizza Village
2 to 7 September
Lungomare Caracciolo, Naples