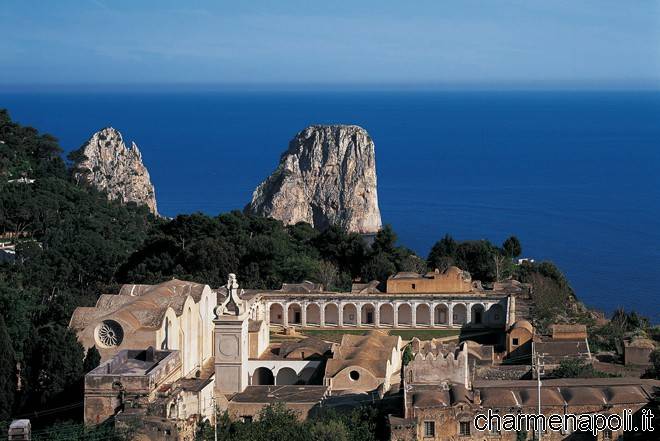 Party on Saturday 16 and will continue until Wednesday, August 20, a new summer event which sees the prestigious Capri Certosa di San Giacomo, the architectural complex of the second half of '300, except for the festival "The Cinema in Certosa".
The project is an initiative of the Special Superintendence for the historical and artistic heritage and museum center of the city of Naples and Caserta Royal Palace, the Municipal Administration of Capri and Federlaberghi of island of Capri with the support of Cineventi, producer film events and organizing inter alia, the professional Days of Cinema in Riccione.
Official Partners and main supporters of this edition, renamed "Year Zero", are the Marina of Capri and the Ferrarelle Water, historically linked to the great cultural events that take place on the Blue Isle.
The event will be transformed Charterhouse for five nights in a charming open-air cinema and the Great Cloister of the architectural complex will be set up with a state of the art facility, edited by CineProject, a leader in the digital projection systems, which will install the first time in Italy, the brand-new 2K projector lamp NEC Digital Laser and a large screen of 12 meters making it unique and spectacular projections.
The event began as a pilot project that could, in the future, become a stable event in the panorama of national film festival, involving a large number of guests and tourists in one of the most beautiful locations of Capri.
The program which is defining the artistic director Remigio Truocchio includes titles in national premiere, "there will be film for everyone, not just art films, such as the inaugural film, but also children's films, comedies, summer flavor and sought romantic movies".
With enthusiasm, initiative looks at the Municipal Administration: "We are proud to bring the big screen at the Certosa – said the Managing Director of Tourism of the City of Capri Antonino Esposito – with a project that is in line with the objectives of promoting and enhancing fixed by the City and we are confident that the show will become a landmark of the holiday Capri season".
A similar satisfaction expresses the Director of the Certosa di San Giacomo Anna Maria Romano: "We imagined an event of great attraction for the public and the many tourists and we intend to offer our unique Charterhouse in an original and captivating as through film, always at memories and emotions".
[charme-gallery]
Great expectations for the opening night of Saturday 16, at 8.45 pm, with the national premiere screening of the last masterpiece of Patrice Leconte: "A Promise", presented out of competition at the Venice Film Festival: a love triangle set in Germany beginning of the century with a trio of great actors, as Rebecca Hall, Alan Rickman and Richard Madden.
The final schedule of "The Cinema in Certosa" will be announced on August 8.
The Cinema in Certosa
Certosa di San Giacomo, Capri (Naples) August 16 to 20
info +39.0818370596
Il Cinema in Certosa (Facebook)