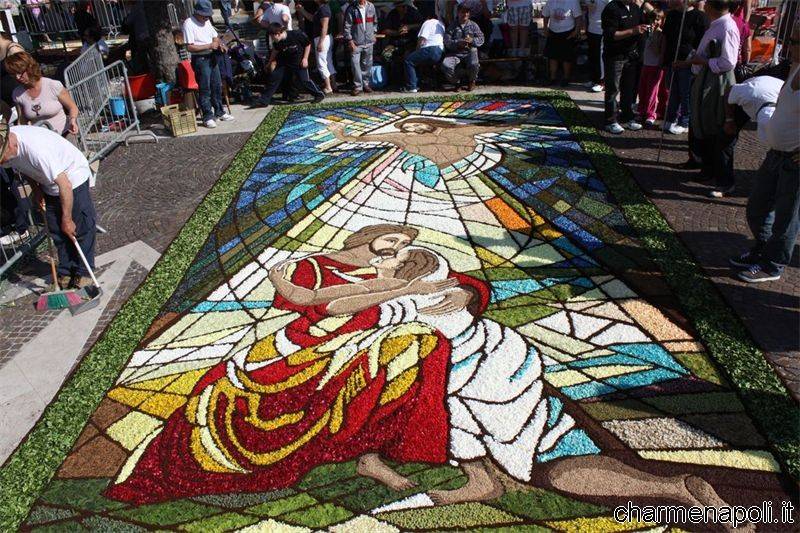 The town of Cusano Mutri puts on display  all its beauty in bloom.
The charming medieval town located on the south side of the Matese, about 70 km from Naples, is preparing to celebrate one of its oldest traditions and characteristics there is: the famous Flower Festival of Corpus Christi, scheduled from Saturday 21 to Sunday 22 June.
During the event, which precisely takes place in the days before the Corpus Christi, local artists realize paintings of flowers on main roads with scenes from the Gospels and reproductions of famous works of appeal to the values ​​of Christianity.
But we see in detail the program.
Preparations in full swing as early as Saturday, when at 17.00, start the design of the square in the medieval town and churches with beautiful themes developed for the long-awaited floral display.
[charme-gallery]
Then on Sunday morning, starting from the early hours of the day, it starts with the processing of carpets, made in the main squares and within the Church of John the Baptist and that of SS. AA. Pietro and Paolo up to twenty feet long.
These works are unique and particularly valuable, as are the paintings made.
Finally, the evening of Sunday takes place at 18.30 the solemn procession of Corpus Christi procession which has as initial and final stages of the two churches decorated for the occasion.
Yes, because the festival that takes place in the month of June is a true celebration that involves everyone, from the inhabitants of the country, tourists and visitors who come to the event and to taste the specialties of the place, but especially the opportunity is good to give space and visibility to the arts of true craftsmen, we return creations priceless historic value.
Flower Festival Cusano Mutri
21-22 June 2014 from 10.00
Cusano Mutri (Benevento)
Free admission