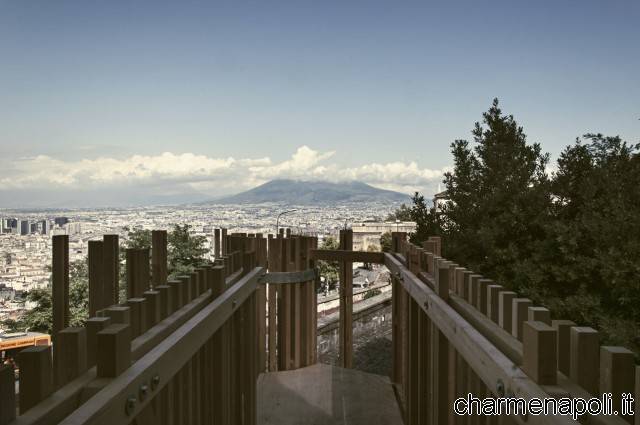 There was once a secret garden, perched on top of the medieval fortress of Castel Sant 'Elmo of Naples, hitherto inaccessible, mysterious and enchanting course.
Today, finally, this great little piece of paradise that sits on the hillside vomerese, is revealed to the public in all its beauty.
All thanks to an international group of architects, curators, designers and craftsmen who created in 2013 "Le Jardin", a project of art and architecture which, once realized, allowed to reach the unreachable plot of green.
It took some time because the idea should be passed to the practice but aided by the enthusiasm and the concreteness of the team that carried out the plan, it has come to completion of the work.
[charme-gallery]
Fundamental to the development of the project was the construction of a scale that makes it possible to overcome a little over 5 feet tall and reach the gate leading to the garden in the tuff, so far out of reach.
And the company, it is appropriate to say, well worth the money because what is offered to the eye of the visitor is a spectacle of nature that has no equal: the view from the panoramic terraces that rise to the top of the structure, hitherto undisputed reign of a natural vegetation.
Recall that the walls that surround Castel Sant 'Elmo ending in an old guard now in ruins and abandoned for years, on top of which there was this abandoned garden that now, thanks to the initiative carried out by the group of Italian, French and a Scot, was recovered, giving the city a scenic and unique.
It is really valuable work, which by the way was voted winner of the third edition of
"A Work to the Castle" and returned to Naples the ancient outpost of the Monumental Complex of the historic building.
For those wishing to discover this precious gem in the countryside, there are tours Saturday, September 27th, from 12.00 to 18.00 and in the days Saturday 4 and October 11, 2014, in conjunction with other meetings and workshops.
"A work for the Castle"
Castel Sant 'Elmo, via Tito Angelini, Naples
Visits: Saturday, September 27 and Saturday 4 and October 11, 2014 from 12.00 to 18.00
Info and reservations: info@lejardin-napoli.com