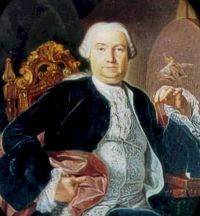 All you still do not know about the greatest architect and town planner of 700 Neapolitan: will be unveiled during the exhibition "Vanvitelli secret, its painters from Conca to Giaquinto: the Cathedra Petri", recently opened in historic apartments of the Palace of Caserta, which will run until 31 October 2014.
The unique exhibition, sponsored by the European Centre for Tourism and designed by Paola Raffaella David, is focused mainly on two major aspects of the production of the great architect of Flemish origin (but Neapolitan to the bone), best known for designing the real residence Bourbon of Terra di Lavoro.
It is therefore discover the talents "canonical" by the artist, as well as those of his genius "creative" in the true sense of the term, since Vanvitelli was also a painter and sculptor and author of numerous works of decorative art.
Among them, how not to mention the design of the Throne of St. Peter, created in Carrara marble and commissioned in 1754 by Pope Benedict XIV to the Vatican basilica?
Not everyone knows ,however, that the magnificent specimen, visible today in the halls of the building, suffered a resounding "rejection" by the customer, which it considered inadequate for the purpose for its characteristics, deemed too fanciful and eccentric at the time.
But as we know there are countless qualities that focused in the person of the talented teacher , including a strong inclination for the world of the seven notes.
Ah yes, the skill and passion that the artist's love for music is documented just a few letters coming directly from the archives of the Royal Palace.
But back to the painter Vanvitelli, it is evident that they could not miss in the exhibition Caserta, some of his most striking paintings, accompanied by the works of his contemporaries.
[charme-gallery]
Recall that many of the paintings selected for the event of the Palace, are shown for the first time the eyes of the lucky audience.
And is the case of the painting, loaned by the National Academy of San Luca in Rome, portraying the father of Vanvitelli, the famous Dutch landscape artist Gaspar van Wittel.
Still, the tour in the gallery of precious works of art continues with sketches by Sebastiano Conca, author of "The Nativity", along with those of Corrado Giaquinto, one of the leading exponents of Neapolitan Rococo, and a series of models and designs, made by the architect of Naples, for tapestries to decorate the bedroom of Ferdinand IV and Maria Carolina in the Royal Palace of Naples.
Last but not least, and only for spatial location, the "Allegorical Portrait of Carlo di Borbone", developed by Lorenzo Gramiccia, from the Palazzo Chigi in Ariccia.
In short, there is nothing else to add except to go as soon as possible to see for themselves the magnificence of art are unique and unrepeatable who have the gift of eternal beauty.
"Secret Vanvitelli, his painters from Conca to Giaquinto: the Cathedra Petri"
4 march 2014 – 31 october 2014
Palazzo Reale, Via Douhet, 2 Caserta http://www.reggiadicaserta.beniculturali.it/