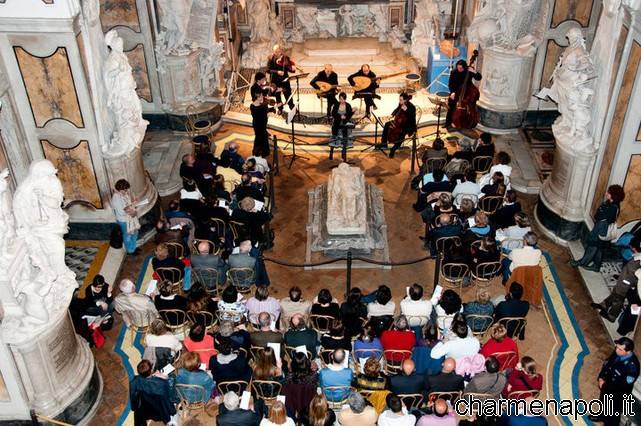 Music at Easter. The city of Naples during the sacred occasion, is preparing to host two great events with the magic of the seven notes.
The scene is  the picturesque setting of the Chapel of San Severo, in which is kept the precious marble sculpture of the Veiled Christ.
The event, sponsored by the Goethe Institute, is scheduled for tomorrow, Tuesday 15 and Tuesday, April 22 next year, dates dedicated respectively to Gesualdo da Venosa and Niccolò Jommelli, to celebrate the 400th anniversary of the death of famed concert pianist and composer's 300th Anniversary.
Recall that Gesualdo da Venosa belonged to the noble family of Naples Gesualdo, but more than for his title of nobility, the prince was distinguished by the strong propensity towards the language of music, especially the genre of the madrigal and sacred music, particularly in vogue during the Renaissance and Baroque Neapolitan.
[charme-gallery]
But beyond the recognized achievements in the field of seven notes, the nobleman is known to the headlines for a story in colors rather bleak. This is the famous murder of Maria d'Avalos, the wife of the musician, who was killed along with her lover Fabrizio Carafa , by the hands of the same Gesualdo, because caught in adultery. The man, shocked by the betrayal of his wife, so he stained dell'efferato gesture, turning Maria in the famous ghost that still , dark nights and windy winter , somebody claims to see prowling , sadly , in the narrow streets of Piazza San Domenico Maggiore.
To relive the pathos of that tragic night , the German vocal ensemble "Bessiner Chamber Choir" will perform in a moving musical performance , titled: "From the bottom , the scene of the crime".
Still, it continues with the Association Discantus which will stage the execution of the Agony of Jesus Christ of Nicholas Jommelli by the Choir Vocal Ensemble Discantus.
Two events not to be missed, therefore, to live the Lord's Passover in the city , including churches and bell towers , monuments and art of the crib has made sacred representation of their trademark.

Cappella San Severo, Via Francesco De Sanctis , 19 Naples
Phone +39.081.551.8470
Tuesday, April 15, 2014 , 20:00
"From the bottom , the scene of the crime"
Music by Carlo Gesualdo
Tuesday, April 22, 2014, 20:30
"Agony of Jesus Christ"
For soloists, chorus and instruments. Niccolò Jommelli
The invitations for both concerts will be withdrawn at the box office of Museo Cappella San Severo (from 9.30 to 18.10 on Sundays from 9.30 to 13.40, closed on Tuesdays)