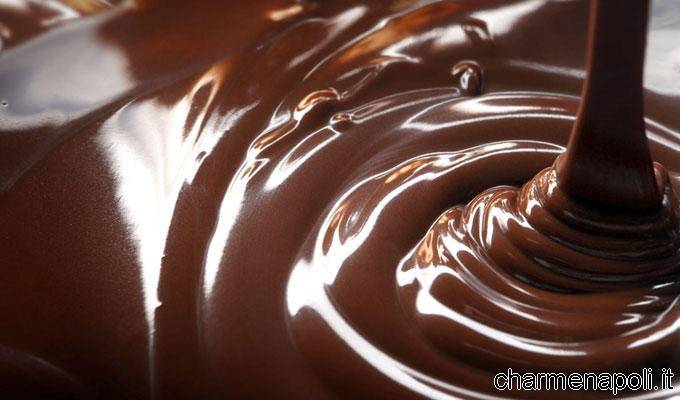 Chocolate, hazelnut of Giffoni and buffalo milk, a mix of simple ingredients, but which, when put together, make sparks! This irresistible alchemy of flavors born of the encounter between the Piemontese pastry chef Guido Castagna and Nunzio Mancino, the Neapolitan entrepreneur author of the successful launch of the cosmetic line "The Scents of Naples".
Thanks to the imagination of Mancino, after the essences care arrives on the market a wonderful smell of chocolate cream belonging to the culinary production
"Taste of Naples".
But it does not end here.
The superchocolate, in fact, was born with well-defined ambitions, in the first place: to conquer Italy!
The success of the delicous recipe in fact, has not been slow , from the slopes of Vesuvius, it  landed directly in the Tuscan capital, cradle of history and culture, from February 27 until March 1, will be held semi-finals of the
"International Chocolate Awards"
: a true championship dedicated to the food of the gods.
[charme-gallery]
This time to compete for the semi-finals there will be an excellent neapolitan delegation , led by maestro Mancini who will present the best of Made in Naples, with products strictly controlled origin of the strong IGP , DOP , DOC and DOCG.
Among these , of course, also included chocolate "made ​​in Naples" , highlight of the Neapolitan production, ready to conquer the taste buds of everyone, including the health-conscious.Yes, because, in contrast to common belief according to which the most delicious foods are not the best allies of the line and health , the owner of the Neapolitan tastes offers a surprising thesis to demonstrate the beneficial properties of the ingredients he has chosen and used.To hear Mancino, in fact, buffalo milk has higher percentages of fat and protein.
It is also more rich in calcium, magnesium and inorganic phosphorus and contains less cholesterol of cow's milk.
It is therefore especially suitable for the feeding of smaller as it brings more calcium and phosphates , as well as an excellent food for those who want to fight aging, thanks to the natural antioxidants.
If we combine the goodness of chocolate and the act of Giffoni hazelnuts , how not to get the mouth open?
So we can enjoy the unique taste of this delicacy without feeling guilty! And for those who already have your mouth watering, the address to mark on your calendar is that of the new gastronomical center of Naples "Eccellenze Campane", where you can buy and taste the sweet delicacy forged by Nunzio Mancino.
"International Chocolate Awards"
Florence, February 27-March 1 , 2014