Naples as Los Angeles. I look like Hollywood. Via Scarlatti and Via Luca Giordano as Hollywood Boulevard and Vine Street. So also Naples will have its Neapolitan Walk of Fame, the walk through the sidewalks of the movie stars.
The Neapolitan Street of the Big Screen will be inaugurated on Saturday May 13 at 17 with the laying of the first star, obviously dedicated to Totò, the prince of the laugh of which 50 years have passed since the death. The first famous star in the Parthenopean sauce has the shape of the perimeter of the walls of Castel Sant'Elmo and is made of lava stone on the design of the artistic director Sergio Sivori, creator of Vomero Fest, a series of events scheduled from Friday 12 to Sunday 14 May, marking a fate of anticipation for the Vomero International Film Fest scheduled for spring next year.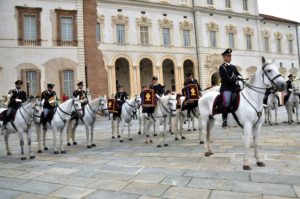 The laying of the star to Antonio de Curtis will be preceded by a ceremony with the artistic director Sergio Sivori, the madness of the event, the actress Nunzia Schiano, and with the extraordinary participation of the Fanfare at Horse of the State Police, which will play among the Other songs "Malafemmena". The fanfare, consisting of twenty-three items directed by the Chief Inspector Silverio Mariani, will perform composite or arranged musical pieces from the current Master-Director who renew the repertoire with music from famous films.
The three days of Vomero Fest are also rich in other art-related appointments, from painting to cinema, from photography to literature, from the history of places, to fashion, to street art, and which will transform Vomero into an event set, ready To receive the upward trend of tourist flows. Castel Sant'Elmo, Certosa di San Martino, Villa Floridiana, Museum of Duke of Martino, cinemas, theaters, churches, parks, squares and streets of the Fifth District of Naples are just a few places where the many initiatives of the event will take place. Vomero Fest, with the organizational direction of Maria Rosaria Picardi, organized with the SerMar Events, is part of the May 2017 Monument initiatives dedicated to Totò.