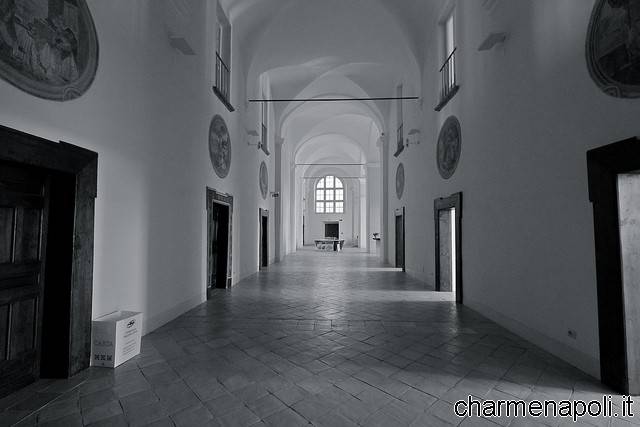 The timeless splendor of the paintings of the author lives in the masterpieces  played by Leonardo , Raphael and Caravaggio exhibition in the renovated rooms in the majestic convent of San Domenico Maggiore, in the belly of Naples. "Una mostra impossibile" becomes reality thanks to a project conceived and directed by Renato Parascandolos , flanked by the scientific direction of Ferdinando Bologna in partnership with RAI , the City of Naples (Department of Culture and Tourism ) and the Association of Pietrasanta Polo cultural .
Three authors of excellence in the Italian landscape painting for the first time together in a single exhibition space located on the first floor of the monumental complex built by King Charles of Anjou : the works signed by the three " axes" of the brush, realistically and accurately represented  will be visible until 21 April 2014. But the real novelty lies in the techniques of reproduction worked to put together the exhibition : 117 masterpieces on display are, in fact , totally play high-definition , 1:1 scale with the goal of making the pictures as much as possibly belonging to the model primitive .
[charme-gallery]
his has been made possible thanks to the use of a matrix with very high resolution , digitized , calibrated values of brightness and chromaticity , and finally transferred to a transparent and uniform support fine grain of the same size of the canvas authentic . In short, one hundred percent identical to the originals.
Leitmotif of the project is precisely the debate on digital reproduction of a work of art , a theme introduced by the German philosopher Walter Benjamin, who will return to animate the public during the challenging moments of discussion and debate scheduled during the exhibition of San Domenico Major.
The big challenge is in fact present to the public the revival of frescoes memorable as " The Last Supper " by Leonardo , " The School of Athens " by Raphael and " Cheaters " by Caravaggio in key digital and informative without overpowering the centuries of history who gave and still give luster to the historical depictions of the three myths of the palette.
The idea stems from the common need , interpreted by the journalist Renato
Parascandolos , to democratize the great works of art and make it accessible and useful to the public, three hundred and sixty degrees. A challenge that part of the city of Naples to revive the artistic and cultural heritage of Italy in every corner of the globe.
"Una mostra impossibile"
http://www.polopietrasanta.it/unamostraimpossibile/
December 3, 2013 – April 21 , 2014, Vicolo San Domenico Maggiore Naples 18
Hours: open daily h 10:00 to 22:00 p.m.
Ticket prices : Adults 5 € , reduced ( from 6 to 12 years) 3 € , free schools
Contacts and information: 081 0102005 – 339 6304072