Villa Cimbrone in Ravello means gardens with flowers and stunning views.
And Villa Cimbrone in Ravello, this year is among the ten finalists of the most beautiful Parks in Italy. For over 10 years, the competition has promoted green tourism to discover the jewelery of the landscaped and botanical heritage. There are more than 1,000 every year participants in the competition, enrolled in the network of the Most Beautiful Parks in Italy and reviewed in the www.ilparcopiubello.it guide.
And for the 2017 Villa Cimbrone in Ravello is on the list of ten finalists who will contest the title of the most beautiful Park in Italy. His story written in the guide's website reads: ".. a large park-garden, in close relation with the spectacular views of the Amalfi Coast, is made in 1904 by Ernest William Beckett, then Lord Grimthorpe, who buys an old house Transforming it into a romantic castelletto.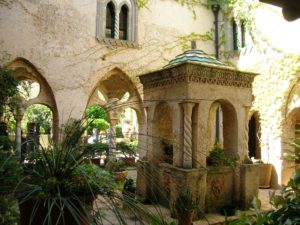 A pre-existing central axis connects the entrance to the Tempietto di Cerere and divides the garden into two zones: the east facing open country; The one to the west with more shady atmospheres. The model of the formal garden is offered in the Rose Garden and in the Tea Room. The landscape model is on the edge of the park, where dense vegetation creates partial views of the coast that become wider than the famous "Terrace of Infinity".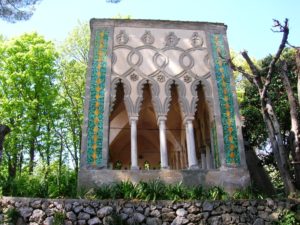 And always the same site tells the industry experts who have selected the ten finalists and who will decree the podium. "The Scientific Committee, which for the selection has taken into account the botanical and historical-artistic interest, the state of conservation, the aspects related to management and maintenance, accessibility and services, relations with the public and the Tourist promotion, consists of six major experts in the field: Vincenzo Cazzato (chairman, University of Salento, for years coordinator of the Ministerial Committee for the study and conservation of historic gardens), Alberta Campitelli (former Director of the Office of Villas and Parks Of the City of Rome), Marcello Fagiolo (former Chairman of the National Committee for the Study and Preservation of Historical Gardens), Ines Romitti (Landscape Architect AIAPP – IFLA), Luigi Zangheri (former Chairman of the International Scientific Committee for Cultural Landscapes ICOMOS- IFLA, President of the Academy of Drawing Arts in Florence), Margherita Azzi Visentini (Politecnico di Milano) ".