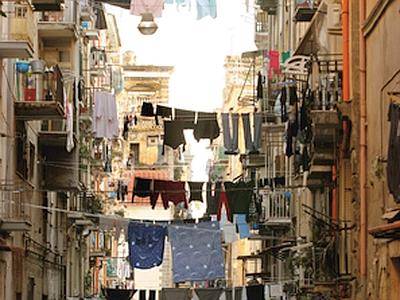 If we think of the city's most authentic and characteristic of the city of Naples, the association with the Spanish Quarter is nothing short of immediate. Symbol of the controversial veracity of Naples, the maze of streets and homes that unfolds upstream of Toledo street getting out of town planning principle, is the next stage of the interesting guided tour by the association Sciò Napoli, on Sunday, March 23 that will lead visitors in heart of Partenope.
The starting point of the tour is the central Via Toledo and from there will begin a unique journey through the streets (and centuries) of Naples.
The walk will in fact be enriched by a visit to some of the oldest and most prestigious churches that are encountered along the way, like the church of San Carlo alle Mortelle, the monastery of Sant'Anna di Palazzo and the monumental building of Santa Maria dello Splendore, just to name a few.
Everything will be accompanied by the final stage in the kitchens of the culinary
"Hosteria Napoletana" of via Speranzella, where you can listen, before a good dish of meat sauce, the many folk stories, related to the life and legends of the area.
[charme-gallery]
Yes, because remember that the fame of this area of ​​the city which includes the districts of Montecalvario and Avvocata, is known to most but perhaps not all of them know his ancient origins.
The name still current in the popular area dates back to the sixteenth century, when served as a refuge and base for Spanish military garrisons in service in Naples, where they were also intended to suppress any revolts of the Neapolitan population.
Since that time, the area was distinguished unfortunately to be a dodgy place especially for the rather libertine conduct of the military, to the point that the viceroy of Naples, Don Pedro de Toledo was forced to enact some laws to eradicate lewd customs that had taken hold among the population.
And so since this part of town has maintained in good and evil his controversial beauty , made of veracity, of spontaneity but also for uniqueness given by his being a city within a city, the behind the scenes of the great comedy of art that Naples plays every day for centuries.
"Four Steps in the Spanish quarters , from his birth to vice-regal Speranzella"
Sunday, March 23, 11:00 am
Reservations required at: 3333370769 – 3487333581 to 3271585555, info@scionapoli.it