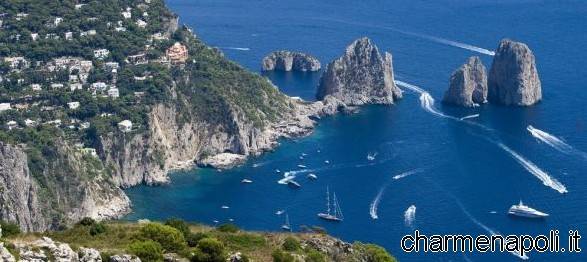 The 80% of British tour operators who organize trips to Italy this year chose the province of Naples to Sorrento and the Gulf Islands (Ischia and Capri) for stays of at sea and in cities of art, while for 2015 is expected bookings increased by about 6% in the entire metropolitan area. In addition, the UK market is confirmed in the first place for number of requests for financial incentives for the organization of stays and flights arranged by the Chamber of Naples in 2014.
These are the main issues of the survey which will be shown in London during the  World Travel Market, held from November the 3rd to 6th at ExCel London Exhibition Centre, the president of the Chamber of Commerce of Naples, Maurizio Maddaloni, who will attend also at the event made ​​in the London office of the famous restaurant "Quattro Passi" of Nerano, organized by the Chamber of Naples and Federalberghi Sorrento. Provided more than one hundred British tour operators and journalists at the important trade show in London.
The event next Monday will be attended by the Regional Councillor for Tourism, Pasquale Sommese; President of Federalberghi Campania, Costanzo Iaccarino and the number one accommodation in Ischia, Ermanno Mennella. "The plan of incentives for international operators launched by the Chamber for the second year had a great response and the data available to us are very positive – said Maddaloni – and we will have interesting facts about the UK market for the next year thanks the leading role of the Sorrento peninsula and the island of Ischia".
"Our goal is to lengthen the season by focusing on employment of tourist facilities throughout the year and on the competitiveness and quality of which will be presented in London at the world's leading operators and tour operators particularly interested in English – said the top levels of Naples Chamber – to consolidate and strengthen its presence in the peninsula and throughout the metropolitan and area of the Campania".
[charme-gallery]