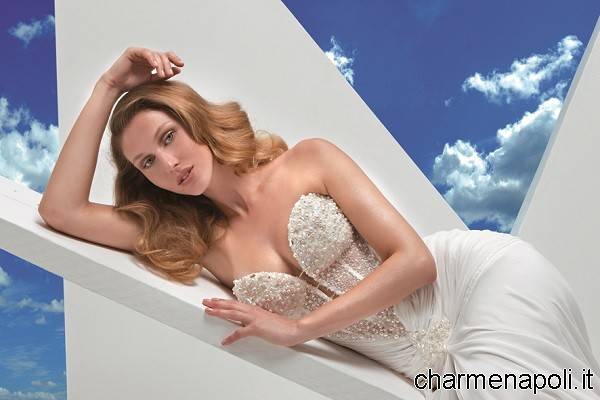 It's called "Valeria Marini Seduction", the exclusive line of authentic wedding dresses, the result of the recent partnership between "Maison Signore" and the actress and fashion designer Valeria Marini, who took care of even the smallest details. A collection from the "Arabian Nights", which will premiere next May 23 to 25 , during the prestigious wedding week in Milan, at the Grand Hotel Principe di Savoia (Piazza della Repubblica, 17).
Wraparound lines, which accompany the silhouette, transparencies, sparkles, embroidery precious and refined French lace. These, the main ingredients of the collection "Seduction", strictly handmade in Italy by skilled seamstresses and embroiderers, born from a happy intuition which bears the signature of the company bell Casagiove (Caserta), who recently opened an elegant atelier also on the Riviera di Chiaia in Naples, and Valeria Marini.
The new collections Excellence Lord and Victoria F, which made ​​him famous and led to the success the brand " Maison Lord," will therefore now added a new bright line dedicated to fashion and enterprising women who do not wish to go unnoticed even on the day of their wedding.
The highlight of the three days full of surprises, the cocktail scheduled for 19.30 on Sunday 25 May, in the dining veranda always the Hotel Principe di Savoia in Milan, which will also participate Valeria Marini.
The event is expected to the most influential buyers from all over the world, the international press and the diverse world of the star system, which will pay tribute to the creativity of a company known for its sensual lines of her clothes, caressing the body, enhancing the forms. Not surprisingly, the press has described the wedding dress of the House "sculptures to wear".
The company of Terra di Lavoro, now in its forty years, it has become one of the most popular in the industry at the international level. For future brides, in fact, the Maison Signore trust the means not only wear a single dress, but also receive a complete design consultancy, focused on making your wedding an unforgettable event.
"Make a line of wedding dresses has always been my dream – he says enthusiastically Valeria Marini – but unlike other fields, i knew that it was necessary to find a partner in the industry are able to translate my drawings and my ideas for dresses dream. And that is why i chose to do it with the Maison Lord, a reality in which even today all the clothes are made in Italy and every detail is designed to be one of the best offices in the country style".
"The decision to present the collections within the wedding week in Milan – says the managing director of Maison Signore, Gino Signore – part of our development plan , following the territorial consolidation of our Atelier of Naples and Caserta, peak hour to answer the question of so many future brides can find our handmade clothes even in the most important Italian and international showrooms".
Maison Signore
NAPLES
Atelier Lord
Via Riviera di Chiaia 264
Naples 80121
tel. +39.081.03.20.397
Caserta
Atelier Lord
Via Nazionale Appia , 395
81022 Casagiove (CE )
tel. +39 0823 49 60 44
Email: info@ateliersignore.it
www.maisonsignore.it