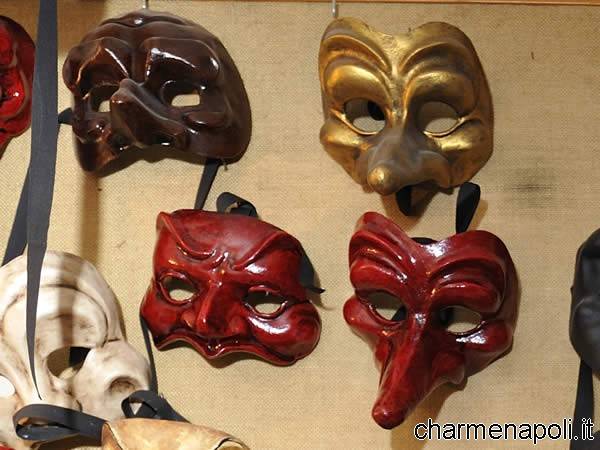 Naples, open-air theater. The centuries-old tradition of commedia dell'arte back to occupy the spaces of the city of Naples thanks to the initiative promoted by the theater company "The journeys of Captain Matamoros" that will stage a special exhibition in the historic center of the city of Partenope 3 to 23 September in 2014.
The spectators who attend the performance, so be ferried on a journey through space and eras, thanks to the stage presence of the elusive Captain Matamoros believed to be the soul of a great actor, ready to tell his story through four typical moments of comedy art that will take place in particular locations in the Old Town.
In addition, due to precision guided tours organized by the cooperative En Kai Pan, which will precede the theatrical moments, will be revealed interesting facts and anecdotes about the places of honor elected to the stage for various performances.
But let's see in detail the program of performances, all directed by Luca Gatta.
[charme-gallery]
It starts with the days of Wednesday 3 and Thursday, September 4 with the "Cunti of Sfessania", set in the sacred space and suggestive of the Basilica of San Giovanni Maggiore. It continues with the dates of Monday 8 and Tuesday, September 9, when it will be the turn of the show "What the troubled heart may well hear the lament of the dying" which will be staged in a location of excellence such as the magnificent Palazzo dello Spagnolo.
But it did not end there, because the content of the show remains high with the performance of "Light and Shadow" on Wednesday, 17 and Thursday, September 18 in the Pharmacy and in the courtyard of the Hospital of Santa Maria del Popolo of incurable. Finally, the closure with the appointment on Monday 22 and Tuesday, September 23 when the spectators are the representation of the piece "El Lazarillo de romancero" set in the spaces of the Museum Hermann Nitsch.
So the offer is really varied cultural and artistic merit. Recall that the commedia dell'arte was born in Italy in the sixteenth century and remained popular until the mid-eighteenth century, when the reform of Goldoni. It was not a real kind of play, but a different mode of production of the shows. The representations, in fact, were not based on written texts, but on the tea towels are also called "scenarios" and were initially held outdoors with a backdrop composed of a few objects. So a simple and improvised, but definitely very effective way of communicating to the public small and big emotions. Today as yesterday.
"The journeys of Captain Matamoros"
3 – 23 September 2014, 19.30
Basilica of San Giovanni Maggiore, Palazzo dello Spagnolo, Courtyard of the Hospital of Santa Maria del Popolo for the Incurable and Hermann Nitsch Museum
Info and reservations: coop.enkaipan@gmail.com