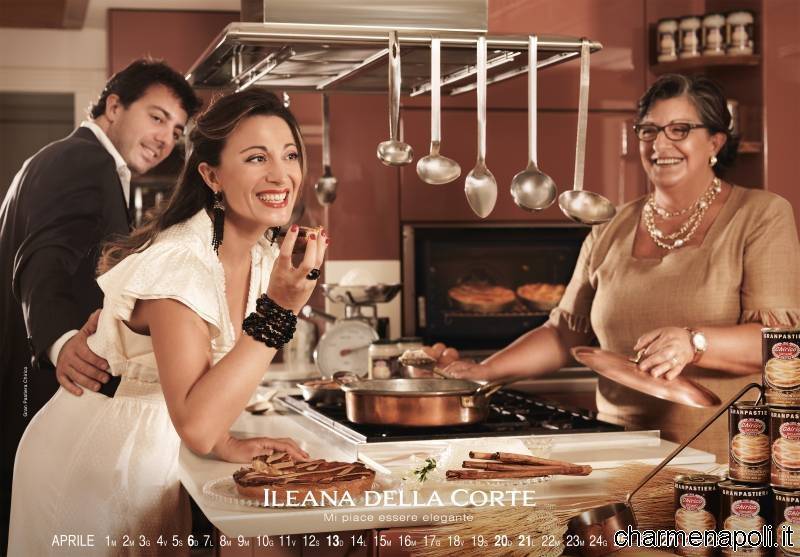 Twelve months to live and to browse all in one breath in Naples . An original timetable . Signed by the prestigious gold label Ileana della Corte . The renowned Neapolitan house of master jewelers is preparing to say goodbye to the old year and the arrival of the new one with the theme "Jewels and Flavors " , a matching pearl of good taste and the goldsmith's art that will embellish , it is appropriate to say, every single month of 2014.Setting for the presentation of the twenty-fifth edition , 2013, scheduled for tomorrow , at 19, the Conference Hall of the Chamber of Commerce of Naples , in the commercial heart of  the city in Piazza Bovio.
The communication agency Allocca & Natali, who oversaw the project , brought together the excellence of the cuisine of Campania selecting twelve delegates to the prestige of the local gastronomic tradition and the same location, to dress up the wonderful creations of the house of Neapolitan flavors and typical of the precious Terra Felix .
The journey to the places of the taste of Naples begins in January, with the "House of Pizza" Gino Sorbillo to continue in February, the month of love, seasoned with sweet pastry creations of the bistrot Motus , a symbol of urban chic atmosphere of the city .
[charme-gallery]
The month of March is instead linked to a name that is an institution for the Neapolitans , guaranteed to always taste : the historic bakery "Moccia" in the living room that lends itself well to Chiaja to act as a backdrop for an unusual meeting between the dust gold and the white flour . The protagonist of April is instead the sweet symbol of the Easter holidays: the Neapolitan pastries , according to the recipe revealed by Annamaria Chirico , directly from her kitchen stove.
With the arrival of spring and the beginning of May , the atmosphere turns pink thanks to the creations of the sugar paste cake designer Giada Baldari . July and August are dedicated to the beauty of the Gulf of Naples with the breathtaking view of  Paradiso  Blanco restaurant in Catullo street, and the unmistakable flavor of ice cream Gay Odin that leads directly to the discovery in September nectars Wine Enoteca Mercadante for then glide to October where to wear the creations of  Ileana della Corte will be the owners of the house and confectionery Marisa Swabian shirt . The tour of the goodness of Campania ends with the beauty pages in November and December with the choice of top quality meat offered by the tavern Cellaio in Posillipo and the dishes starred chef of the Palazzo Petrucci Lino Scarallo . What else to add ? Happy New Year to everyone!
"Gioielli e Sapori"
 Thursday 4 dicember, 19:00 p.m. , Salone Borsa Merci, piazza Bovio-Napoli