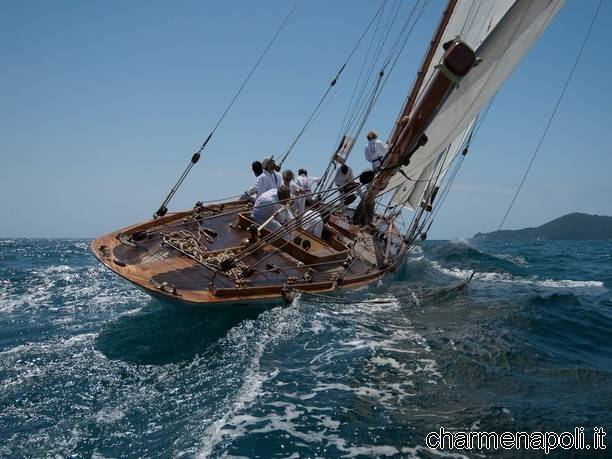 A sail towards the blue sea of Naples. From 2 to 6 July 2014, the city on the Gulf, will host the eleventh review of "Le Vele d'Epoca in Naples", organized by the Royal Yacht Club Rowing Savoy. This important event will be included in the Panerai Classic Yachts Challenge, international regatta circuit reserved for sailboats vintage and classic.
The Neapolitan capital is thus confirmed, once again (after having already hosted a stage of the America's Cup) crossroads of prestigious international events.
But we see in detail the program of the event.
It starts Wednesday, July 2nd with arrivals and records of the participants on the piers of the Club Savoy, which on this occasion will be used as a logistical base for the review.
[charme-gallery]
You will then enter in the live Thursday 3rd, Friday 4th, Saturday 5th July, there will be days when racing in the Gulf starting from 11.00.
On Sunday July 6, the final stage of the event with the classic parade of all registered boats in the waters around the waterfront in Naples.
Recall that among the members, there are also some historical hulls of the Navy such as the Caroly, Capricia, Corsair II and Polar Star in the bay while we will also ship Palinuro school with the students of the Military Naval School "Francesco Morosini" in Venice.
At the races, will also participate in the ownership of the old Dragon Club Savoy, Ausonia, first Dragon stazzato in Italy, in addition to at least 33 boats that come from Italy, Ireland, Great Britain, Norway, Spain, France and the United States.
In short, a great opportunity not only for the wolves of the sea, but also for newcomers to the discipline boating, to discover and learn-year history of the seabed and what better setting than that of the magnificent Gulf of Naples?
"The vintage sails in Naples"
The promenade of Naples, Savoy Club and Marina Saint Lucia
Free admission