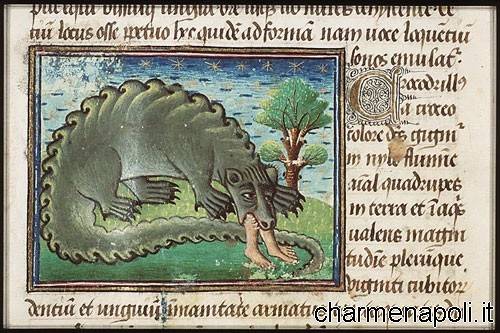 Little more than six centuries ago, was the February 2, 1435, died in Naples Joan of Angiò. Belonging to the branch of Angiò-Durazzo, the beautiful and intriguing noblewoman became Queen of Naples in 1414 with the name of Joan II, on the death of his brother Ladislaus. He knew how to navigate between Louis III of Angiò and Alfonso of Aragona fifth, which eventually prevailed in his succession to the throne of Partenope.
Joan was born in Zara on the Dalmatian coast of the Adriatic Sea on June 25, 1373. He had numerous mistresses and popular tradition transformed into a sort of mantis that undid her suitors (often chosen from among the good-looking young commoners), after crazy nights of love, making them disappear into deadly traps. For centuries it was narrated, in fact, that the lustful queen possessed, inside Castel Nuovo (Maschio Angioino), a secret trap door: lovers, once they fulfill the desires of the sovereign, were thrown into this pit here and devoured by a hungry crocodile, to hear the voice of the people, the queen had brought with him from Africa up in the basement of the manor.
The amazing story, which joins the one that wants the queen architect of the destruction of the village of Satriano, Puglia, just because the inhabitants of this small village of Lombard origin had dared to kidnap his lady of the court (but another version has it that the destruction the village has been commissioned for the denial of a young baronet 's place in the match thanks love the queen).
[charme-gallery]
Perhaps because gruesome and disturbing, this and other legends have finished with the increasing popularity and curiosity and Joan I of Naples (Naples, ca. 1327 – Muro Lucano, May 12, 1382) and Joan II, which are often associated and confused, but they were both called to rule a kingdom at the center of disputes in a historical moment of the most difficult and troubled history of Naples.
The tomb of Joan II of Angiò-Durazzo is located inside the monumental Basilica of the Santissima Annunziata Maggiore in Naples, part of a larger complex consisting originally only by the church, even from a convent, a hospital, from a hospice for orphans (the "exposed") and through a "shelter" for poor girls or lack of family.