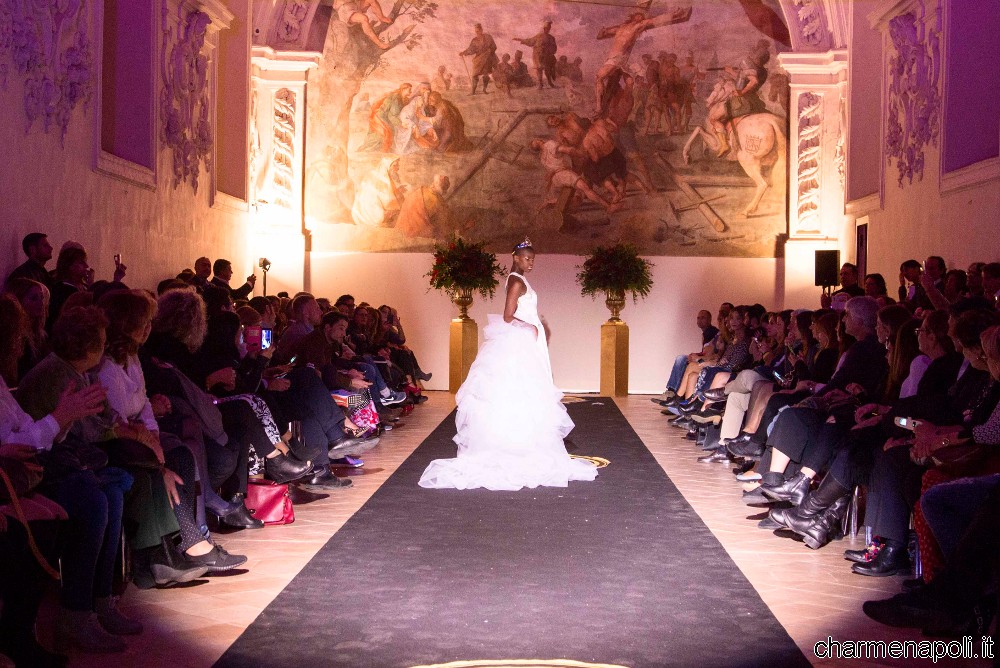 To paraphrase Shakespeare, you could easily define "night dream (glam) of the middle Autumn", the one that took shape a few days ago in the Chapter Hall of the Complex of San Domenico Maggiore in Naples, enchanting surroundings of the Maison Haute Couture fashion show "Vicoli Santi" by Luciano Esposito. An exclusive collection that gives a nod to the elegance and the Baroque painting style, inspired by the figure of the Queen Margherita of Savoy.
On the catwalk, for the occasion, 40 authentic outfits from the craft connotations usual approach, by tailoring and an adept use of embroidered fabrics, transparent and valuable applications that make the woman Esposito a real "queen". The Neapolitan couturier, in fact, has designed and implemented these models starting right from the example of the style of the main sovereigns have alternated on the throne over the centuries. Hence the fairytale atmosphere, designed to revive the luxury and refinement of the courts, thanks to lace antique flavor and embroideries that are combined with lines always in step with the times. Processes that give three-dimensional surfaces sculpted clothes, twisty and spectacular volumes with lace alternating with micro paillette embroidery. A finesse that wants to be at the same time solemn and light: timeless, but in keeping with the spirit that has made great queens in our history.
Hence the choice of prints, while it ironically cite an icon made in Naples as Pulcinella, on the other hand, they borrow sacred and mythological scenes from paintings of the 800 Neapolitan painters, high-impact frame that bind to gold embroidery and gifts applications.
The shapes of the clothes, both evening ceremony, are essentially corolla, wheel, siren and empire style, with large volumes, petticoats in tulle, important trains and asymmetrical lengths, even with references sometimes lines 50s. In different outfits, also present more agile cigarette pants paired with duchesse lace bustier or with gold embroidery. To complete the outfit, delicious coats courts by the characteristic shape of "A", with gold inserts or lapin and sleeves herringbone, and always in duchesse printed wrap hoods.