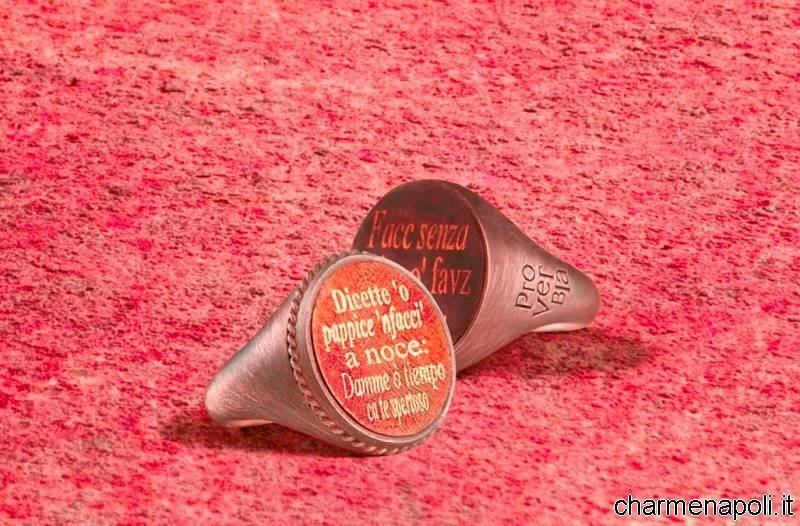 Pearls of wisdom those created by the goldsmith "Nardelli Jewels" .
With the presentation of the new collection "Proverbia" Giovanni Nardelli , a talented art designer Naples, combines past and present to honor more than thirty years of experience in the industry. The artist draws on the vast repertoire of proverbs and old " adages " traditional and blends them literally on the surfaces in 9 carat gold and 925 sterling silver handmade creations of "Made in Naples" .
The brand is launching a series of unisex jewelry destined mainly to the younger crowd , aware of the latest trends but at the same time fascinated by the retro style with a vintage flavor .All the pieces since the rings Chevalier , through bracelets and necklaces, and ending with the asymmetrical plates , are strictly created by hand and subjected to the aging process that gives the realizations that value of uniqueness.
[charme-gallery]
To each his own gem, but especially his saying : there's something for all tastes and for all beliefs typical of each region.
Short phrases , slogans or sayings related to personal experience , decorate the precious customized on request . There's really no limit to the creative genius of the client and the craftsman, except to comply with the maximum number of 65 characters within which enclose the message that best reflects their personality.
The line of exclusive items is displayed in all the windows of the best jewelers in Italy, however, there is also the possibility of buying online by logging on to e -shop site : www.proverbia.it , in honor of a cute book of proverbs from all over the boot.
"Nardelli Jewels", www.proverbia.it
For info: info@nardelligioielli.it , toll-free: 800090230