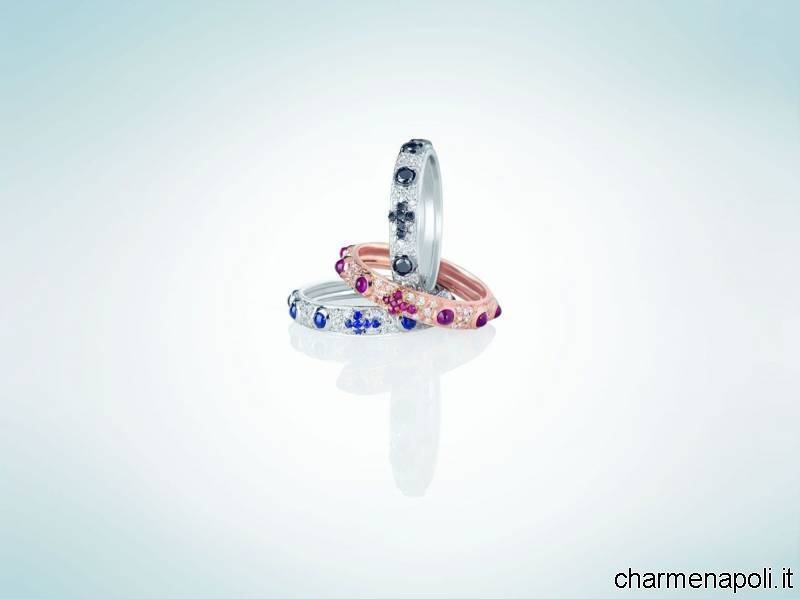 Capri is a continual discovery, with breathtaking views, enchanting corners and gourmet dishes. Another special place of shopping, true essence of the Azure Isle, is the boutique Nardelli Gioielli at Via Listrieri 1. Their most important line in jewellery, the Sunsation collection, has a stylised sun as the protagonist, embellished, depending on the model, by diamonds or saphires. Among the most popular pieces is the version with a "beating heart" in coral and tourquoise, either in gold or in 925 silver, made, like all the jewellery of Domenico and Bruno Nardelli, by hand, in Italy.[charme-gallery]
Among the gems of the Summer Season 2013 is the Sunsation line of watches, with a stylised sun, on the face of bright watches. A sun carrying white crystals also featuring on belt buckles. Watches are available in the boutique in Capri or on the site www.nardellicapri.it where it is also possible to purchase the piece which has become an international fashion must-have, the Rosario ring: a small masterpiece in white, yellow or red gold with a small cross of purest diamonds coupled with black diamond, rubies or saphires. More than a simple ring it is a real "sign" a precious connection with the infinite.
The 2014 collection is already a success.
The latest pieces of Nardelli, call them, if you will, emotions to wear. The new rings are a must Rosario undisputed among the brand's collections of Naples, who in 2014 returned more precious than ever. For the next season are offered in a new look with shimmering cascade of diamonds as a background all'incastonatura of "grains" and crosses in sapphires, rubies and diamonds blacks. A jewel exclusive and refined, combining glamor and spirituality, illuminating any outfit, from morning to night.[charme-gallery]
In the Fair VicenzaOro Fall (from 7 to 11 September 2013) was also presented in a numbered limited edition of only 500 copies: this time the Rosary ring is made of pink gold, diamonds wrapped in black, with "grains "cross and diamond white. A further revision created to satisfy even the lords many men, attracted by the Rosary Nardelli.
The other novelty in 2014 signed Nardelli Jewels, is "Nightowl": that is, a delicious collection porte-bonheur in white or pink gold, black and pure diamonds, sapphires and rubies starring stylized owls (for those who believe in bad luck, to rub if necessary). Then, there is Elli's, the basic line of the brand. A treat, the collection "Romantic monogram" made by skilled goldsmiths, made in Italy, in pure white gold and diamonds: at the center of glittering necklaces and bracelets are featured stylized letters very feminine and glamorous. For humans, however, it was decided to focus on contrasts with the "Domino collection", with black & white diamonds, reminiscent of the ancient play cards, board embedded ad hoc "souls" in white gold.
Nardelli Jewels
Via Listrieri 1, Capri (Napoli)