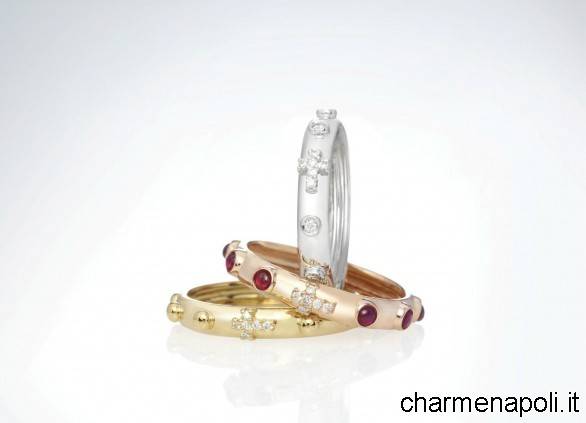 "Color, more color, color very strongly". This is the leitmotif of the sparkling new collection signed Nardelli Jewels, which will be presented starting from today until October 13, 2014, at the Salon of Contemporary Jewellery "Tarì World Precious" set to the center goldsmith "The Tarì" Marcianise (Caserta) .
A veritable explosion of nuances, that sees elegant "souls" in white gold, yellow or pink, work, now as before, by expert goldsmiths made ​​in Italy, "marry" now diamond black, white and champagne now rubies , emeralds, jolite, sapphires or tsavorite thousand shades. Under the spotlight, for the occasion, precious parure suspended between the classical and the modern, ready to meet ladies of all ages: from young people in search of stylish fashion pieces and original ladies olders, always attentive to detail.
For all of them, Nardelli Jewels has given shape to the line "Starry night" romantic flavor and retro banner of earrings and bright patches circle; but also to "Stylish Passion", which brings to mind the ancient Mexico; and "Flowerfull", overflowing with elegant stylized flowers all to wear.
And the appeal, there are pearls and unusual tennis bracelets of many colors, in addition to the rings of the Rosary, in both "classic" that in ceramics, must have unquestioned company already some years. "Sphere" and "Code", are the main lines of the new men's collection. The first, starring unusual gold pendants that recall-wheel drive and stylized gears embellished by a big black diamond or a sapphire center; while the second, features original crosses, cufflinks and bracelets Tagged twist of glamor.
But it does not end here. Yes, because to make it even more sparkling and evocative showcase of Tari, Nardelli has decided to focus on another "argument". Particularly juicy and always current. What proverbs. Not surprisingly, Giovanni Nardelli, young deus ex machina of the Neapolitan Proverbia brand, has decided to focus on a new line of jewelry unisex and easy chic that after the successful debut in the name of bracelets, pendants and rings made ​​of silver and gold 9 carat, for 2015, is now focusing on authentic rings chevalier, always personalized with sayings or phrases chosen by the customer, this time made ​​of brass. Small works of art-to-wear with a vintage, created exclusively by hand in Italy by skilled craftsmen, goldsmiths, as well as almost 40 years takes place at Nardelli Jewelry for Love, Neapolitan-known company that produces and distributes the brand new (Form 154) .
The chevalier customized, will be available in the best jewelers in Italy or on the website www.proverbia.it.
[charme-gallery]