The flavors of tradition, exalted by the chef Saccone at the hotel restaurant Mediterraneo. Ceremonies and magical encounters on the terrace of the Flute Club Moet & Chandon.
The "Vesuvio Roof"  is the exclusive restaurant of the Hotel Mediterraneo, which is  located just a few steps from the center of Sorrento. The Chef Giuseppe Saccone and his talented staff offer dishes of the traditional Neapolitan cuisine, expertly interpreted and made with top-of-the-range products.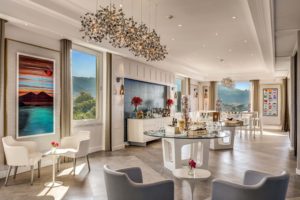 The re-opening of the Flute Club Moet & Chandon terrace, which is now under restyling, is scheduled for the following  summer season.  It is the perfect place for those who want to celebrate a high-class wedding, or for those who wish to enjoy delightful evenings, tasting finger food and signature cocktails.
Vesuvio Roof Restaurant
Hotel Mediterraneo Sorrento
Via Crawford 85, Sant'Agnello (Sorrento)
tel. +39 081.878.13.52
www.mediterraneosorrento.com
facebook.com/MediterraneoSorrento