"… chi ha girato tutto 'o munno, nun l'ha visto comm'a ccà"
(those who have travelled the whole world, has never seen anything like this).The sea of ​​Sorrento, precious as treasure, has still the same magic that inspired the brothers De Curtis, in their verses and music in 1905. A terrace overlooking it, is the exclusive destination for those who dream of making their wedding day unique. In this restaurant every event becomes unique and exclusive, thanks to the beauty and charm of the panorama.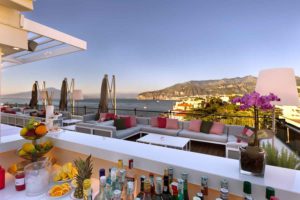 At the summit of Hotel Continental Sorrento, the sea meets the sky without any barrier to interrupt the breathtaking view. Mobile glass windows separate the terrace from the view of the Gulf. An ingenious restyling work, has recently made this corner of paradise perfect. For the newlyweds who choose to celebrate their idyll here, the stunning location is emphasized by an excellent cuisine, which offers traditional dishes revisited in a gourmet key by talented master chefs. Every dish is to be accompanied by excellent and exclusively Italian wines.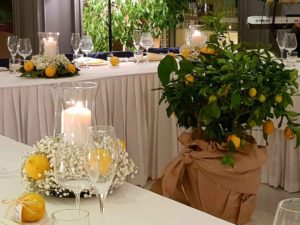 The restaurant has been recently expanded and offers two different locations suitable for every type of event. The hotel is also located in the heart of Sorrento, a few steps from the impressive 14th century cloister of St. Francis and its annexed church, and the home of the famous poet Torquato Tasso. An enchanted place for unforgettable events.
Terrazza Vittoria
Hotel Continental Sorrento
Piazza della Vittoria 4, Sorrento (Na)
tel. +39.0818072608
www.continentalsorrento.com