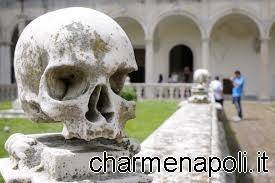 Two witches meet at the Monastery of San Martino in Naples to celebrate their All Souls' Day. One comes from America and celebrates Halloween; the other comes for the Vesuvius and worships the cult of the dead and the  poor souls. This is the scene of a humorous quarrel, which puts children in contact with the history of art and the history of Naples in one of its most important monuments: the museum and the Monastery of San Martino. "What is Halloween?" is the new animated guided tour characterised with entertainment, mainly conceived to make kids fall in love with the history and traditions of Naples: a way to learn by having fun.
What happens if on All Souls' Day an American witch comes to visit a Neapolitan relative of hers? Lightning, thunders and thunderbolts! Grimilde arrives from the USA with all of the equipment of pumpkins, skeletons and black cats to celebrate her Halloween the American way. The bewitched Amelia comes down from the Vesuvius with an inventory of horns, amulets and skulls to celebrate her  poor souls. Eager to introduce the amenities of the city, Amelia takes Grimilde 'onto' Vomero, an uphill quarter, to show her the breathless view, which can be enjoyed from the Monastery of San Martino. It is right there, in the wonderful scenery of the monastery, that the two witches engage a 'crackling' spat: each concentrated on celebrating their 'Feast of the Dead'. Who will win? Only who follows the entertaining tease between two witches will know how it ends.
This is the singular and unique series of guided tours organised by Itinera at the Monastery of San Martino, Friday the 1st and Sunday the 3rd of November (two visits a day, 10:30 a.m. and 12:00 p.m.), to discover the Neapolitan and foreign folkloristic traditions on All Souls' Day. The church and the Sacristy of the Monastery, the big cloister and the rooms with the collections of Neapolitan cribs will be visited.
Reservation is mandatory, max. 60 attendees per visit.
Email the number of adults and children, mobile phone to: info@itineranapoli.com.
(translated by Mauro Di Fenza)