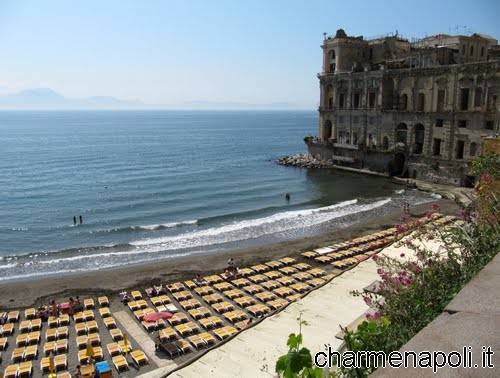 The vintage feeling of Naples comes alive in the series "Postcards from Bagno Elena", an exhibition of images and photographs ranging from the mid nineteenth century to the seventies of the twentieth century the historic shore of Posillipo.
The exhibition will run until June 13 in the magical setting of Castel dell'Ovo, in the hall of the terraces, with the support of the Morra family, from the 50s that manages the historic bathhouse founded in 1840, and has made available all the necessary material for the construction of charming festival.
This is valuable evidence that era show a new face of the capital of Campania and of the first sites devoted to bathing, of which the establishment posillipino was the forerunner in quality bathroom sanatorium, or suitable not only to breathe the fresh air of the sea but also to submit to the beneficial effects of sunlight.
[charme-gallery]
So thanks to the photographic evidence and planning documents, you will be able to retrace the ancient streets of Posillipo and its magnificent panorama, highlighted by the lack of cars (at that time there were none), including art nouveau buildings and places of rare beauty . Many are curious to discover how the images that portray the first women who were dressed in the bathroom, according to traditions and morals in vogue in those days.
Among the customers of what was then called "marine Baths" were numbered the likes of Richard Wagner and Oscar Wilde, who often went into the then rich and important Bourbon capital of the Kingdom of the Two Sicilies, to enjoy the mild climate of the city Gulf.
Only later, in 1899, during the Kingdom of Italy, the beach lido was renamed "Elena" in honor of Princess Elena of Montenegro, the young bride of King Vittorio Emanuele III, a frequent guest of the structure Naples.
It should be remembered that today the beach Elena continues to attract sunbathers and "aficionados" of the Bay of Naples. There are many, in fact, those who choose this extraordinary slice of coastline posillipina to its prime location, just steps from the majestic Palazzo Donna Anna.
And for those who want to fully immerse themselves in the history of Partenope and its beautiful beaches and tourist attractions, in the course of the exhibition will be able to buy the book published by Rogiosi publisher, and edited by Bruno Aletta and Aldo De Francesco titled "Bagno Elena in Posillipo of 1840. Neapolitan Two centuries of summer".
"Postcards from Bagno Elena"
6-13 June 2014
Castle of the Egg, Hall Terrace, Naples