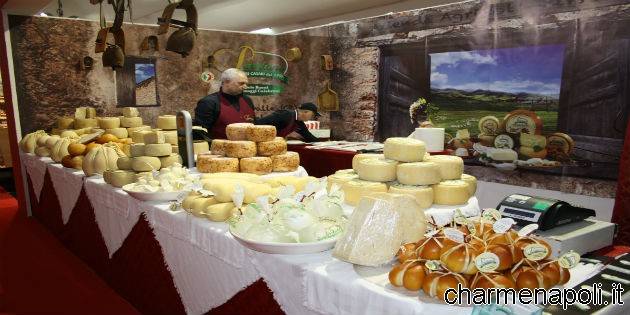 In fairgrounds Fuorigrotta an event not to be missed: the one with the "good taste". Mostra d'Oltremare, Città del Gusto Napoli and Gambero Rosso  have "Mediterranea" the first exhibition of taste conceived with the aim of telling the territories, support and spread the peculiarities of local food and promote understanding of local products and the supply chain agribusiness, thus enhancing the territories with the myths and stories that distinguish them.
Mediterranean is a great opportunity to experience and learn about the many aspects of the production chain Italian, selected and organized by Mostra d'Oltremare, Città del Gusto and Gambero Rosso: from tastings to meetings with famous chefs, from purchasing to knowledge of new products tell a territory or a story. To support these activities, there will also be entertainment, cooking workshops and much more.
But before the big event, on 29 and 30 November, in the spaces of the Restaurant La Piscina the fairgrounds Neapolitan, the culinary festival will know a tasty prologue. It starts, in fact, with "Waiting for the Mediterranean": a juicy preview of what will be proposed, developed and expanded in the following editions: Mediterranean "Edition 1.0" (February 2015) and Mediterranean Special Expo (July 2015) until you get to the Mediterranean "Edizione2 .0 "(February 2016).
[charme-gallery]
To preview Naples on 29 and 30 November, the program therefore provides a range of events designed to introduce the theme of the Mare Nostrum and to tell what it will be, in a nutshell, the festival editions planned for 2015. In the program (30 November) a Brunch offering a real journey through the flavors and aromas of the Mediterranean through the use of products such as breads and gourmet pizzas created by the masters Pizzaoili and the Chef of the City of Taste, quality extra virgin olive oils, cheeses and meats of the territory awarded with the recognition "Three leaves" by Gambero Rosso. Again: craft beers bells of high quality and tasting gourmet ice cream prepared by Masters Gelatieri: Emilio Panzardi and Palmiro Bruschi. Two tasting workshops: His Majesty the tomatoes and extra virgin olive oil by the experts of Gambero Rosso. For the full program of the event, just click here. Please note that places are limited and it is therefore required on booking.
Waiting Mediterranea
29 and 30 November
Ristorante La Piscina, Mostra d'Oltremare of Naples
info and premotazioni: tel +39.081.31.19.800
mail: napoli@cittadelgusto.it