Not far from the Archaeological Museum, the restaurant of Iolanda Canale offers the menu of the ancient Neapolitan tradition and a pizza with a highly digestible doug.
Taverna luciana where taste meets authentic tradition.
A few steps from the National Archaeological Museum of Naples, the food blogger Iolanda Canale has created her  tasty realm of Neapolitan cuisine: The Taverna Luciana pizza restaurant.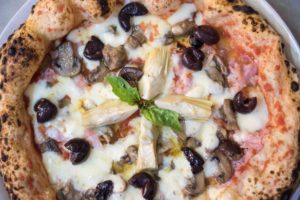 At the Taverna Luciana, one can taste flavors which are difficult to find elsewhere. Very popular are the bucatino con il coniglio all'ischitana (bucatino pasta with rabbit) and the excellent Genovese made following to the recipe of the 1700s.
Taverna Luciana is also famous for its pizza. The dough, made with a blend of three flours, is highly digestible. It is obtained with mother yeast and it is left to raise at a controlled temperature for 48 to 72 hours.
At a glance, Taverna Luciana's pizza shows all its lightness. The specialty of the house is the pizza in the shape of a starfish, with polipetto affogato (octopus) and mussels.
It is clear that here, the flavours of the past can be experienced. Real emotions for the palate