A Figlia d''o Marenaro. Not everyone knows that in Naples, an eternal "sovereign" still reigns in the kitchens of its citizens.  It has the smell of  the sea and it is exquisite, unique and is able to delight all those seated at the table. It is the mussel soup, which is one of the symbolic dishes of the traditional Neapolitan cuisine.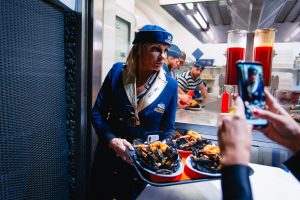 This succulent dish represents the true cult of the historic restaurant, 'A Figlia d'o Marenaro' in via Foria, managed by the "captain" herself, Assunta Pacifico, whose recipe is considered  one of the most famous and appreciated in Naples.Mussel soup is traditionally cooked on the Thursday before Easter, but it is perfectly enjoyed throughout the year. It seems that a first version of the recipe dates back to Ferdinand I of Bourbon, known as "The Big Nose King ", often admonished for his sins of gluttony, committed during the Holy Week.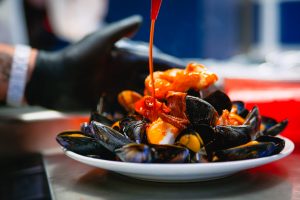 The legend goes that, The king ordered his cooks to prepare a dish less sumptuous than usual to be eaten during the fasting days, before Easter. This is how the mussel soup with tomatoes and strong pepper sauce was born. The mussel soup cooked by  'A Figlia d"o Marenaro, a place where tradition never sets, but is updated and renewed with wisdom. It is prepared with fresh mussels and veracious clams, prawns and periwinkles, laid on freselle  (toasted bread) and then soaked with spicy oil called 'o russ', and seafood juice. Finally  topped with  a savoury biscuit called, tarallo 'nzogna e pepe.
Ristorante 'A Figlia d''o Marenaro
Via Foria 180/182, Napoli
Tel. +39 081.44.08.27 
www.afigliadomarenaro.it