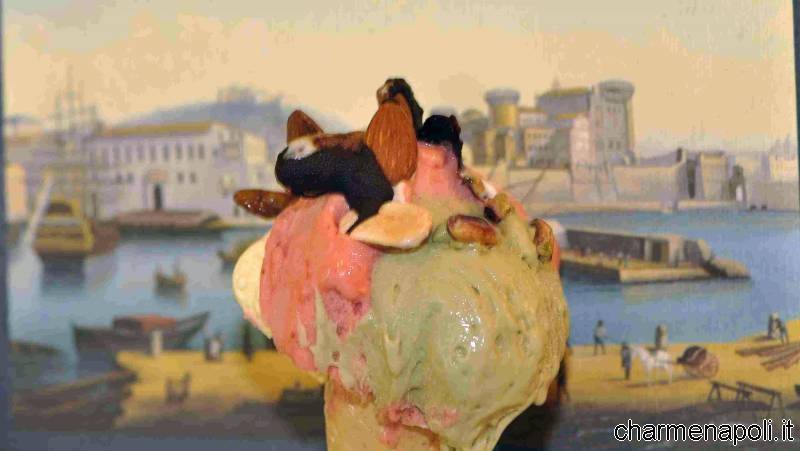 Oscar Wilde's famous quote "I can resist everything except temptation" seems a perfect portrait of of the people stopping outside the windows of Gay Odin to take in a cascade of genuine irrresistible flavours, "made in Naples" since 1922.
Its delights range from bars of chocolate to loose chocolates. Then there the delicious, dark "Foresta Nera"  – flakes of chocolate that melt in the mouth – and Diamante al Pistacchio.[charme-gallery]
For those not yet tempted there is news Gay Odin now has ice-cream, in 24 flavours, most inspired by the production of the chocolate factory in Via Veriera: all types of chocolate, brasilian, coffee, rum, cinnamon, and foresta and passing to caramel and almond. A must to try is "crema della nonna Melina", a delicate taste with an intense lemon aroma.[charme-gallery]
At Gay Odin, a symbol of excellence, refinement and quality for almost a century, one stop is not enough for discovering and trying all the declinations of chocolate on offer. Fortunately there are eight places to stop in Naples, one in Rome and one in Milan.
Gay Odin
Laboratorio:
Via Vetriera 12, Napoli
Tel. +39.081.417843
[charme-gallery]
Where is Gay Odin:
Via Cervantes 37, Napoli
Via Toledo 427, Napoli
Via Toledo 214, Napoli
Via V. Colonna 15/b, Napoli
Via L. Giordano 21, Napoli
Centro Direzionale, Isola E7, Napoli
Via F. Cilea 189, Napoli
Via B. Croce 61,  Napoli
Via Stoppani 9, Roma
Via S. Giovanni sul Muro 19, Milano