Mozzarella, with its tradition, its history and  its particular flavor, will be forever linked with its lands of origin.
The Ponte a Mare dairy company, in Castelvolturno, produces excellent mozzarella cheese, with a meticulous attention to every step of the production. The basic rule is,  always use the best milk  as Vincenzo Paolo, the founder of the company, taught his sons Gianfranco and Antonio. The excellent raw material makes the mozzarella Ponte a Mare insuperable, as well as their provola, morsels, cheese braids and ricotta.The imperative of the company by the Paolo brothers is to bring to the world products rich in nutrition principles.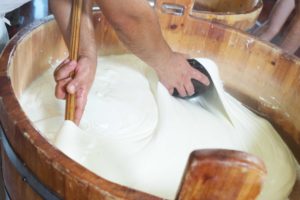 The Ponte a Mare mozzarella is  elastic and full of  milk, with an unmistakable salty aftertaste. These characteristics have qualified the Dairy the  Gambero Rosso Award.Much goes to the teachings of their father Vincenzo, who personally selected the best pastures where to graze his flocks. The ancient techniques have been perfected today by the innovative equipment and health checks.Lucky are those who can taste the products made by the Ponte a Mare dairy factory of Castelvolturno, which is freshly delivered in every corner of the planet.
Caseificio Ponte a Mare
Via Domitiana km 34.070, Castelvolturno (Caserta)
tel. +39.0823 851525
www.ponteamare.it