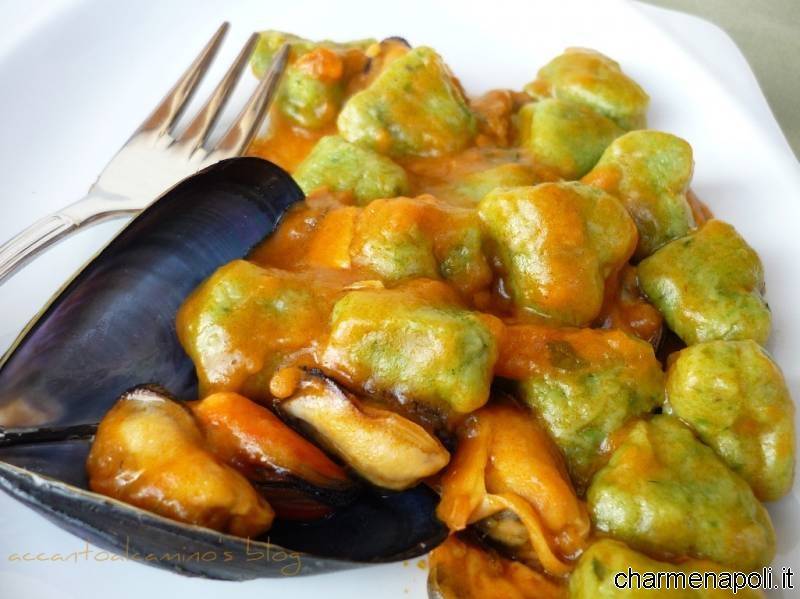 When you are having fun in the kitchen trying , experimenting , and you go in search of new flavors , these are the results . Add the gnocchi , famous when declined "to Sorrento " and when the mussels are looking like " mpepata " , leads to a great result . Enjoy yourself to do it and taste it.
Ingredients (for 4 people):
800 gr mussels
600 gr medium sized squaws
250 gr cherry tomatoes or piennolo
150 gr flour
1 whole egg
1 shallot
parsley
oil
Salt and Pepper
Making of recipe
Let's start with the gnocchi . In a saucepan, saute the shallots in the oil and add squashes. Salt and pepper lightly , making them creamy with the minipiper . On the table , prepare the volcano of the flour and put the squash cream and beaten egg . Season with salt and pepper if you like . Stir well until the mixture is thick at the right point . Forme the cylinder of dough and cut giving it the shape of dumplings or whichever you prefer. Leave to rest for the time necessary to prepare the simple sauce with mussels . Clean them well to  remove the mussels , scaling and filaments. In a saucepan high to high heat , let them open . Peel and water is conserved . In a shallow saucepan with oil , pass the tomatoes cut into small pieces for five minutes maximum . Stir in the mussels with a cup of the cooking water of the same. Give her a few minutes right flavor . Now boil the gnocchi in a pot of water where you will have also added that remained of the mussels , and freshly cooked pour them into the pan with the sauce. Saute for a few minutes and serve by placing in a few shell mussels and garnish with chopped parsley.