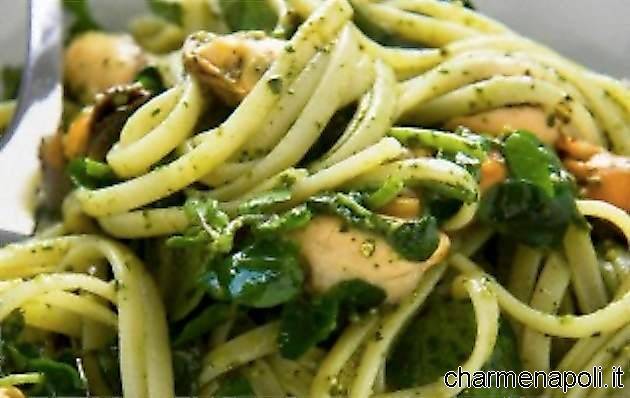 Let's get right to the recipe, without going through the parallel paths of history and customs, because such a dish should be just cooked and eaten.
Ingredients (for 4 persons):
400 gr of linguine
800 gr of mussels
1 jar of basil pesto
olive oil
chilli
parsley
half cup of white wine
salt
Making of recipe
Rinse very well the mussels removing scales and filaments. Put them in a saucepan overhigh heat. As soon as every shell open, remove from heat, and shell. Strain the cooking liquid from the mussels and keep it. In a large pot, put a little oil with crushed garlic and one or two chillies (depending on how spicy you like it). Once the garlic is brown, add the water you kept before and wine. Once the wine has evaporated add the mussels and let them take flavor. Turn off and add the pesto. Cooked the pasta, drain it, and pour it into the pot containing  the seasoning, adding up to four tablespoons of cooking water from the bucatini. Sauté for a few minutes (medium heat) and sprinkle with chopped parsley. Serve with a mussel shell as decoration.