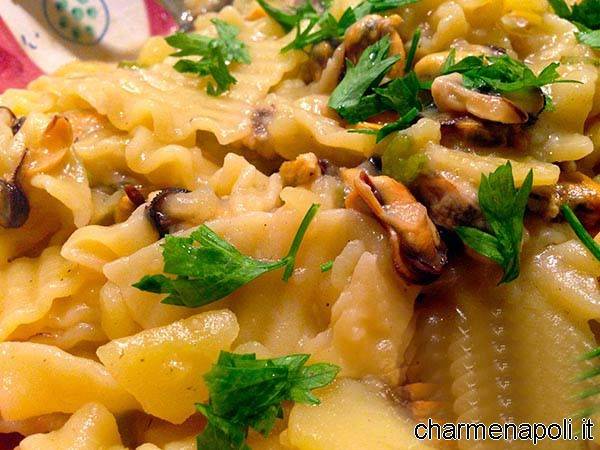 Recipes of traditional Neapolitan cuisine.
Imagination in the kitchen . Merge two dishes from the inn , pasta and potatoes and mussels, to propose a great taste dish, set on the tables of everyone . It's a poor history of being able to eat food since ancient times until now to get married in a colorful dish and fragrant.
Ingredients (for 4 people)
400 gr pasta mixed or tubettoni
800 g mussels
3 medium sized potatoes
200 g cherry tomatoes
1 shallot
1 clove of garlic
parsley
pepper
salt
Making of recipe
Rinse very well the mussels removing scales and filaments. Put them in a saucepan over high heat . As soon as all are open , remove from heat , and shell . Strain the cooking liquid from the mussels and keep it . Let the potatoes. Wash well and peel them . Cut into strips or cubes, as you prefer. In a deep pan , cover the edge of oil. Does heat the oil with the garlic and chopped shallots . Remove the garlic when it is golden . Pour the potatoes into this pot and fry for a few minutes , taking care to mix adding a little 'pepper and tomatoes divided to four. At this point add the cooking liquid from the mussels . You have to cook the potatoes now . If the water is not enough for the mussels , pour more water . It will take about 20 minutes for the potatoes . When these are soft or pulped ( however you like ) pour in the mussels with a sprinkling of parsley. They take flavor in a very short time . Aside from the fact you have to cook the pasta at this point , drained , mix it on fire with potatoes and mussels. Mix the ingredients , served at table with a nice ladle and serve it.